There are endless opportunities when it comes to tension fabric structure designs.  From unique shapes to brilliant colors to lighting accessories, the potential for creating something truly iconic and unforgettable is only limited by the imagination.  Tension fabric structures can also deliver innovative solutions to a broad range of functional challenges, including issues relating to site usability, user experience, energy efficiency, sustainability, and more.
However, to ensure your tension fabric structure designs can achieve all of your aesthetic, functional, and safety goals, there's a lot to take into account – especially these weather and climate considerations.
Wind, Snow, and Seismic Activity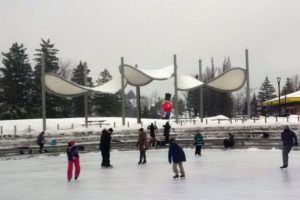 Despite having lightweight elements, it's important to recognize that tension fabric structure designs are semi-permanent to permanent pieces of architecture – and not temporary installations, such as event tents.  This means that the final design specifications need to be engineered to meet or exceed the load criteria for the project's location.  In other words, the structure needs to be built to withstand the wind, snow, and seismic activity* that's common in the area (and defined by local building codes).
*These are three examples of load criteria and should not be interpreted as an exhaustive list.
Corrosive Elements
Corrosive elements, such as salty ocean air or heavy pollution, can have a major impact on some of the common materials used in tension fabric structure designs.  So, if this is one of the project's challenges, it's essential to ensure the materials being chosen will be capable of performing well in these conditions – including the materials being used for the foundation, frame, cables, attachments, and membrane.
For example, projects in close proximity to busy freeways or manufacturing plants with coal-burning furnaces should consider TiO2 Coated PTFE Membrane because of its ability to actively counteract airborne pollutants.
Keep in mind that there are finishes that can be used to increase a frame's corrosion resistance, such as three-part epoxy paint and hot-dip galvanizing coats.
Water Control, Conservation, and Sustainability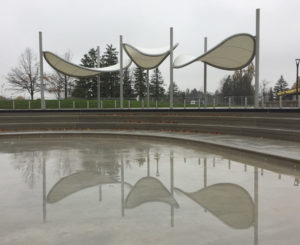 From the foundation to the membrane, water (or lack thereof) can also have a substantial impact on tension fabric structure designs.  Underground, a comprehensive study of the soil conditions will guide the final design and engineering specifications.  Above ground, the location's expected rainfall should also be considered.
In wetter climates, tension fabric architecture is phenomenal at creating large spans of rooftop covering or freestanding shelters.  In dry climates or for projects that have ambitious sustainability goals, the structure can be designed to capture rainwater and direct it towards a storage tank or into nearby landscapes.
To continue exploring the design and engineering considerations for your project, read our related post: 5 Steps to Ensure the Safety (and Durability) of Your Tensile Fabric Structures.
The Reliable Expertise You Need. The Innovative Tension Fabric Structure Designs You Deserve.
In the Tension Structures Division of Eide Industries, we specialize in design, engineering, manufacturing, and installation of structurally complex and creatively challenging commercial, government, and prototype design projects.  We provide expertise and support for architects, landscape designers, general contractors, and property owners to develop their custom tensile membrane project ideas and construct iconic structures.
Explore the options for your next project.  Contact one of our experts today by calling 800-422-6827.