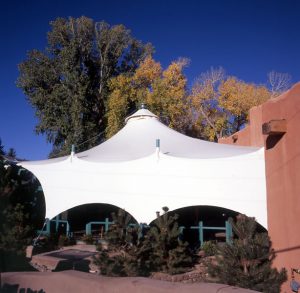 Owners and developers across the globe have discovered the advantages of building with tensile fabric building structures as opposed to traditional building products.  Whether you are looking for an entertainment venue such as an amphitheater, walkway coverage for travelers at transit stations, or a structure to make your athletic fields suitable for year-round competition, a tensile fabric building structure may be the ideal solution.
Quicker Installation – With proper construction methodologies in place by design-build specialty contractors for tensile architecture, the installation of tension membrane structures is often faster and more cost-effective in comparison to traditional construction projects. Designed as semi-permanent to permanent, a tensile fabric building structure is not ideal for temporary events but is an excellent alternative to the brick and mortar structures we once relied on.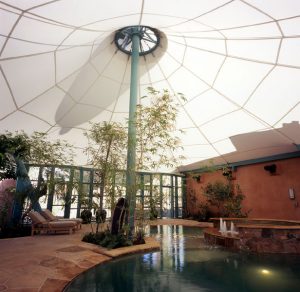 Bright, Natural Diffused Daylighting – Because of the translucency associated with nearly all of the fabric options, tensile fabric building structures provide an abundance of daytime light underneath, making it an inviting and comfortable space below.
Flexible Design Aesthetics – Due to the unique flexible characteristics of fabric membrane, tensioned membrane structures give architects, designers, and engineers the opportunity to experiment with form and create visually exciting and iconic structures.
Low Maintenance –  Whether it's the use of a Teflon™ (PTFE) coating on woven fiberglass membrane or a protective acrylic or PVDF top-coat on PVC membranes, tensile membrane structures have demonstrated as low maintenance projects for clients.
Excellent Durability – Based on the unique combination of design materials (such as PTFE-coated fiberglass, ePTFE with a Flouropolymer coating, and PVC membranes), construction, and environment, the longevity and durability of tensile membrane structures have been proven to last and withstand harsh and extreme climates and environments around the world.
Lightweight Nature – When looking to cover large areas of space, the light weight nature of membrane is a cost-effective solution for long span applications while allowing for the possibility of column-free space. As a result, tensile membrane requires less structural steel supports compared to traditional building products, ultimately reducing project costs for building owners.
Is a Tensile Fabric Building Structure Right for Your Next Project?
In the Tension Structures Division of Eide Industries, we specialize in design, engineering, manufacturing, and installation of structurally complex and creatively challenging commercial, government, and prototype design projects.  We provide expertise and support for architects, landscape designers, general contractors, and property owners to develop their custom tensile membrane project ideas and construct iconic structures.
Explore the options for your next project.  Contact one of our experts today by calling 800-422-6827.