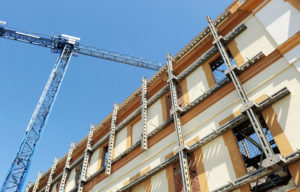 When working on upgrading historic buildings or simply aging structures, your team need to strategically solve and carefully consider countless challenges.  From complex building codes and site-specific limitations to community influences, exterior renovations like these often require an innovative approach.  
And, that's where our team steps in!  We help you conceptualize and customize unique solutions for even the most complicated projects—like historic building renovations.
Protect Aging Structures and the Exteriors
Harsh environmental impacts—including everyday exposures, seasonal storms, and pollution—can wreak havoc on aging exteriors.  Which approach are you taking – damage prevention or slowing the deterioration process?  Tensile fabric facades can wrap the building in a protective "second skin."  The technologically advanced membrane can block harmful UV rays, wind, snow, sleet, and other environmental concerns.
Update Outdated Aesthetics
Not all historic buildings are charming examples of a former time.  Many simply appear dingy and outdated. Unique tensioned membrane structures and facades can update the exterior without making permanent alterations to the building.  That can certainly create a win-win scenario for project managers that are finding it difficult to get permits for more permanent renovations.  Tensile facades, for example, can be installed (and, more importantly, removed) from the building with minimal impact because only the framework's extrusions are affixed to the structure. 
This non-permanent approach, when working on upgrading historic buildings, can also be an asset when navigating the community's concerns.  
Address Structural Load Challenges
When working on upgrading historic buildings, one of the greatest challenges is the original structure's capacity for withstanding structural loads that are considered "normal" in modern architecture.  Tensioned membrane structures and facades are lighter weight than most traditional materials. Lighter weight means that you can design it to put minimal stress on the original structure while maintaining safety and longevity.  
Working to Upgrade Aging Structures?  We Can Help!
In the Tension Structures Division of Eide Industries, we specialize in design, engineering, manufacturing, and installation of structurally complex and creatively challenging commercial, government, and prototype design projects.  We provide expertise and support for architects, landscape designers, general contractors, and property owners to develop their custom tensile membrane project ideas and construct iconic structures.
Explore the options for your next project.  Contact one of our experts today by calling 800-422-6827.