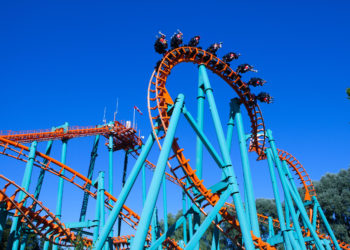 When it comes to theme parks and amusement parks, most people think about the rush of adrenaline from rollercoaster rides or the excitement in their child's eyes when a beloved character approaches.  However, for theme park operators, there's a world of work to be done every day to make sure visitors have a safe and enjoyable time on the property.  Commercial shade solutions help operators with those guest experience goals – while also benefiting the property's bottom line in a wide range of ways.
If you or your client is looking for dynamic and cost-effective options to challenges like overwhelming summer heat, property-wide branding, and energy efficiency, then commercial shade solutions (including tensioned fabric structures and retractable canopies and awnings) just may be the answer you've been looking for.
Benefit #1: Guest Safety
Summer is here – and that means theme parks across the country will start seeing longer lines, crowds of visitors, and sweltering temperatures.  As a theme park operator, it's important to consider how heat will impact your guests – especially since they'll often be waiting in long lines with hot concrete underfoot or in an amphitheater waiting for a show to start.
Tensioned fabric structures can be designed to blend seamlessly with the theme of each ride (or of the park overall), so guests get a break from the sun while you get a perfectly designed addition to your property's aesthetics.  Commercial shade solutions should also be considered for picnic areas and restaurant patios – where the park's youngest and oldest visitors are most likely to congregate while seeking a break from the excitement.
Benefit #2: Park-Wide Branding
The innovative membranes used for commercial shade solutions give you the opportunity to incorporate your brand colors (and potentially your logo) throughout the park.  And in today's world of selfies and social media, it's becoming increasingly valuable to have your branding visible throughout the property.  After all, when guests post photos of their epic day, you want their followers to recognize your brand, even if you aren't tagged.
By incorporating your brand colors into your shade structure designs, you're also setting your guests up to unconsciously associate your brand with that glorious feeling of stepping into the shade on a hot day.  What could be better?!
Benefit #3: Energy Efficiency
Every business owner wants to reduce their operating expenses.  Combine that goal with the growing focus on energy efficient property designs, and commercial shade solutions become a no-brainer.
Whether you choose retractable awnings to cast shade over certain windows or you opt for a tensile fabric facade to wrap the entire structure, these shading solutions can reduce internal temperatures by 10-15o without using any energy at all.
Explore Your Options for Commercial Shade Solutions with Eide Industries
In the Tension Structures Division of Eide Industries, we specialize in design, engineering, manufacturing, and installation of structurally complex and creatively challenging commercial, government, and prototype design projects.  We provide expertise and support for architects, landscape designers, general contractors, and property owners to develop their custom tensile membrane project ideas and construct iconic structures.
Explore the options for your next project.  Contact one of our experts today by calling 800-422-6827.