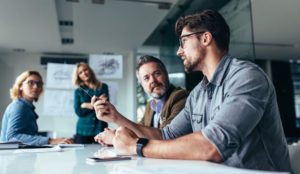 From tensile membrane facades that lower A/C needs to living rooftop gardens that regulate interior temperatures, the building industry is constantly looking for new ways to achieve more energy efficient architecture.  While technological advances are an essential step in the process, it's important that we don't overlook the human aspect of the solution.
We recently wrote about the importance of understanding impact of occupancy engagement on predicting energy usage.  In this post, we'll explore the ways in which the building industry – the architects, developers, and property owners – can transform "people" into a real solution for energy efficient architecture, as opposed to considering the end-user to be a barrier that needs to be overcome.
The Problem of Tenants & Occupants
For most of us, it's easy to assume that people will listen to a logical argument and shift their behaviors accordingly – such as reasons for turning off lights or powering down equipment at the end of the day.  But, realistically, we know that it takes a lot more to drive change.  That's because behavioral change is very personal.
So, for years, the building industry has searched for ways to circumvent the human element and automate the solutions that support energy efficient architecture.  This has prompted incredible advances in design and construction – including tensile facades that use natural shading as an efficient cooling solution and sophisticated automatic building control systems.  However, it's also forced us to come to terms with a simple truth: If tenants don't like an automated system or automatic solution, they will find a way around it.
The Solution of Tenants & Occupants
As much as they'd like to contribute to greener living, people are ultimately influenced by their personal opinions, beliefs, and habits – so the transformation from the problem to the solution requires a new type of approach.
Whether you're a property owner looking to renovate or architect tasked with an energy-focused project, the first step in the design process needs to be engaging with building occupants.  Consider these steps:
Plan Ahead – Consider who you should talk to and how to best communicate with them. It's important to think about the options in terms of their impact on the tenants/occupants and present the value-proposition of those options.
Start with Education – The project's goals and energy efficient architecture (in general) may be second-nature to you, but it's not for your audience. Take the time to explain the reasons for the change and the goals – taking care to simplify industry lingo into easily-understood terms.
Rally Support – Telling occupants what to do is far less productive than asking them to be your partners in reaching new sustainability goals. By approaching the conversations with the goal of building alliances and partnerships, you'll find a much better 'buy-in' rate.
Listen & Recognize – While you have plans starting to take form, you must accept that occupants know themselves, their spaces, and their real needs. Listen to their ideas and recognize them for their contributions to the discussion.
Follow-Up – When the plans are starting to get into motion, follow-up with occupants to talk about the final plans, how their ideas were incorporated, and what behaviors still need to be adopted to achieve the goals.
If the goal is to improve the sustainability and efficiency of a building, then there needs to be a balance between energy efficient architecture, modern systems, and changes in tenants' behaviors.
How Can We Help You Achieve Your Energy Efficient Architecture Goals?
In the Tension Structures Division of Eide Industries, we specialize in design, engineering, manufacturing, and installation of structurally complex and creatively challenging commercial, government, and prototype design projects.  We provide expertise and support for architects, landscape designers, general contractors, and property owners to develop their custom tensile membrane project ideas and construct iconic structures.
Explore the options for your next project.  Contact one of our experts today by calling 800-422-6827.