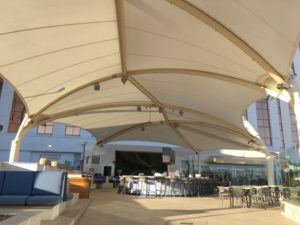 When it comes to the tension structures we build, every one of our clients has unique needs that must be addressed. This means that our team has to meticulously research the constraints of each project and find a solution that best meets its requirements. One decision that plays a major role in any job site is the choice of fabric you select for its construction. When it comes to this important selection, choosing the wrong material can make or break the tension structure's functionality.
That's why today, we're breaking down a few different scenarios, and we will guide you on the best fabrics for your project.
Fabric Offers Complete Shade
Are you looking for a tension structure with sun protection as its core functionality? Many of our clients have properties where visitors often spend hours exposed to the outdoors. Whether it be outdoor seating for a bar, or just a haven at the park, without adequate shade nearby, they risk health issues like heat stroke, severe sunburn, and even skin cancer. Luckily, there's a fabric that's perfect for the job.
Known as Soltis 92 fabric, this membrane material does a remarkable job of blocking the sun's harmful rays. By the numbers, it stops 97% of sunlight from penetrating its fabric and making it down to the people below. This creates noticeable "cool" spots where patrons don't have to worry about getting out of the heat. It's one of the reasons why we used it when constructing for Atrium Irvine.
Benefits: Extreme Temperatures
One of the most difficult design constraints to workaround is when you're dealing with extreme temperature swings. It's one thing to create a tension structure for hot weather, or conversely, cold weather. It's a completely different challenge when constructing in environments where both are a possibility. So, what to do?
Our build for Reno's Grand Sierra Resort posed exactly this question. Our client needed a tension structure that could protect against the "blistering heat and the icy snow." Our solution? We went with an extra-durable, four-season, noncombustible Teflon-coated fiberglass canopy. Many refer to this as type 3 PTFE. This material is rugged enough to withstand 115mph wind loads. It stays sturdy through any temperature swings.
Benefits: Light Reflection
Does your property utilize solar panels to provide the building with extra power? Then you'd benefit from building tension structures as a light reflection aid. By using the innovative Ferrari Precontraint 492 mesh fabric we have available, you'll be able to create a structure that not only protects the people below it but also gives your panels an extra boost of sunshine.
It's exactly what we did for Las Vegas-based Powerlight Springs Preserve. They were looking for a tension structure that could strategically bounce sunlight towards the photovoltaic screens above their parking structure. Our team of experts formulated a design that led to greater efficiency and more overall power. We opted for the Precontraint 492 fabric because its white color variant. It's reflective surface retargets the sun's rays.
Start Your Tension Structure Initiative
In the Tension Structures Division of Eide Industries, we specialize in the design, engineering, manufacturing, and installation of structurally complex and creatively challenging commercial, government, and prototype design projects.  We provide expertise and support for architects, landscape designers, general contractors, and property owners to develop their custom tensile membrane project ideas and construct iconic structures.
Explore the options for your next project.  Contact one of our experts today by calling 800-422-6827.