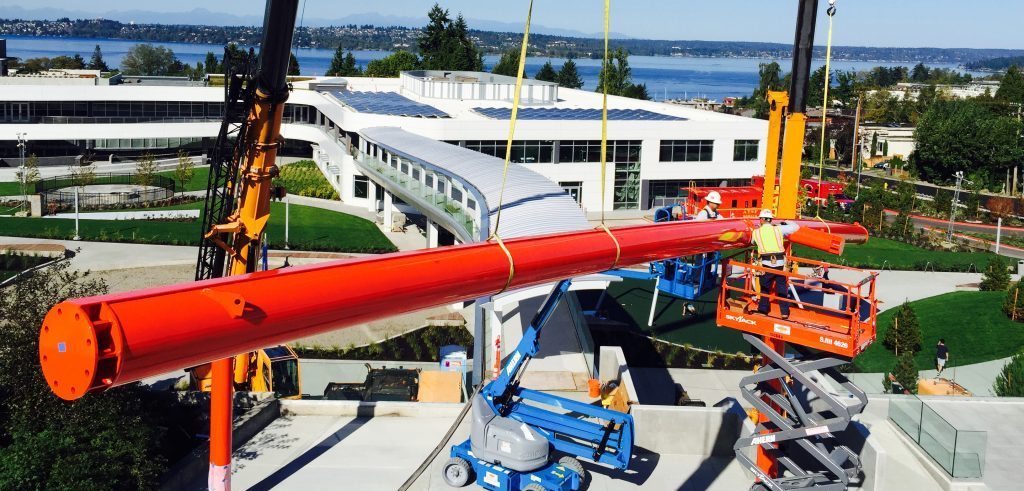 As a full-service tensile structure manufacturer, Eide Industries (and its Tension Structures Team) is proud to work with some of the country's leading architects, designers, contractors, and property owners – helping each of them bring their visions to life.  Many of our new clients have similar questions as they begin to explore the possibilities of tensile membrane architecture, so we thought we'd take a moment to offer some answers.
What are Tensile Membrane Structures?
Tensile Membrane Structures (aka tensioned fabric structures) dynamic types of modern architecture that are characterized by tensioned fabric or flexible membrane material that's supported by cables, structural steel members, and foundations.  This tensioned fabric system creates permanent or temporary canopy structures that are ideal for a wide range of purposes.  Learn more by reading our post: An Introduction to Tensioned Membrane Structures.
What's the Difference Between Tensile Membrane Structures and Tensile Facades?
Tensile Facades are one type of tensile membrane structure – generally acting as a second skin to a building's exterior.  Instead of providing an overhang or roof-like structure like many other tensile structure designs, a tensile fabric facade generally spans a vertical space to create an exterior cladding system as opposed to a roof or ceiling.  From creating a more productive workplace to improving aesthetics during a renovation to achieving performance goals with new constructions, tensile facades deliver an incredibly broad range of benefits.  Learn more by exploring our Benefits-Related Posts on our Blog.
What Are the Most Common Applications for Tensile Membrane Structures?
As a tensile structure manufacturer, we believe that the project applications for tensile membrane structures are only limited by your imagination.  However, they've proven to be highly valued and cost-effective solutions for entertainment & retail, commercial property, institutional facility, park & sport center, and transportation center projects.  Learn more about the scope of possibilities by exploring our Applications-Related Posts on our Blog.
What Fabric and Color Options Do You Offer?
There are a wide range of fabrics available, but the two most commonly used membranes are PTFE Fiberglass Membrane and PVC Membrane.  Different membranes are celebrated for different benefits, so it's important to let your project requirements and criteria guide the material selection process – aligning goals with performance instead of focusing solely on cost.  The color options and potential for graphic printing vary depending on the type of membrane you choose, but your design specialist will help you make the best decisions for your project goals.  Learn more by reading our post: Exploring the Fabrics for Tension Structures.
What Can I Expect from the Purchasing Process?
Tension Structures is a full-service design-build tensile structure manufacturer that's based in Southern California (aka Made In America).  This means that from the initial concept to the final unveiling, we provide trusted expertise at every step along the way, maintain the strictest quality control standards, and create truly unique final products.  While some projects may not utilize all of our capabilities, we offer in-house Design, Engineering, Manufacturing, and Installation services.  Learn more by reading our post: The Design/Build Process for a Tensile Fabric Structure.
Can the Structures Handle Rain and Wind Loads?
Yes.  Since we are a custom tensile structure manufacturer, we engineer structures for your project's load requirements.  From fabric & frames to membrane attachments to optional added features and everything in between, your final tensile structure will be manufactured and installed to withstand the elements in your project's location.  Learn more by reading our posts: Premium Water Control Options for Tensile Membrane Structures and The Performance Capabilities of Tensile Membrane Architecture.
Our Tensile Structure Manufacturer Team Is Here to Answer Your Questions.
In the Tension Structures Division of Eide Industries, we specialize in design, engineering, manufacturing, and installation of structurally complex and creatively challenging commercial, government, and prototype design projects.  We provide expertise and support for architects, landscape designers, general contractors, and property owners to develop their custom tensile membrane project ideas and construct iconic structures.
Explore the options for your next project.  Contact one of our experts today by calling 800-422-6827.