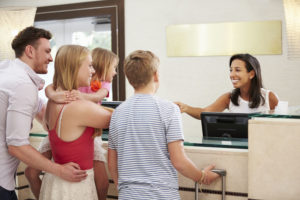 When it comes to hospitality, it all boils down to the user's experience.  While hotels, restaurants, and tourist destinations think of implementing designs like tension structures for functionality and aesthetics, that relationship with the consumer happens weeks and months in advance. Check out this great look designed around Paddlefish in Orlando, Florida. Chances are before everything is in place, the buzz is swirling around your property!  What better vehicle to celebrate your project before it's even finished than by communicating with consumers interested in hospitality social media?  
Hospitality social media is big business, and it spans across multiple channels – emails, organic social content, and blogs.  According to HospitalityNet.org, the statistics reveal where your guests are. Just a few of the numbers:
What can you do to build the buzz factor with your audiences well before the project is completed?
Why Hospitality Social Media?
Social media offers something that traditional print doesn't – access with immediacy.  Nothing may frame on a wall better than an article in Hospitality Design or Hospitality Magazine; if you've been featured, congratulations!  It's an incredible accolade to have your project featured by either of those top hospitality publications.
The challenge with print is that it isn't in real-time.  Your guests are savvy; they want to see things unfold live, or as close to it as possible.
They are already familiar with the unprecedented behind-the-scenes coverage that social media provides. They want real-time updates.  How do you do it? Start with these hospitality social media outlets.
Monthly Newsletters
There's a pretty good chance you communicate with past guests or customers through email.  Have you converted them to brand loyalists? Email is wonderful for posting your blogs, announcing your calendar of events, and touting your specials or sales.  
With any social media tactic, you need to offer up value to keep people returning.  
When it comes to your new project, your property and your team are excited to watch it develop.  Ask your audience to share in the excitement. Create a special communication about your new project.  Devote an e-blast to your project, highlight some details, and deliver your guest a glimpse of what the future looks like.
If you can get their buy-in, and you ask them to join on the journey, they will be eager to stay involved with the process from start to finish.  Capture them to email, and move them to your social channels. 
Hospitality Social Media Channels to be on 
Social media is impactful because people spend hours a day on Facebook, Instagram, Twitter, LinkedIn, YouTube, and many other platforms.  You are most likely communicating with your guests multiple times a day on social media. 
How do you keep them engaged as your project goes from the design stages to the grand opening?  We have multiple answers. Create a hashtag. What hashtag can you own and build a relationship with consumers?  Can you run a live cam on your product and push updates through your website and onto your social? Can you come up with clever social media contests?  
Your audiences don't necessarily have to be consumers.  If your design is really cool – and we know it is – local photographers might be interested in having some exclusive access to capture images of your project.  
Their content can become your content as you gather User Generated Content – that's content created by others to support your brand awareness.
Don't forget; Regular updates on your project can develop an amazing buzz long before the doors open!
Blogs
Sometimes, a social post isn't enough.  Blogs are great for a number of reasons.  While you likely are already using blogs for this purpose, many aren't aware of how amazing blogs are for SEO.  They also give you the perfect platform to tell amazing stories. What is unique and fun about your new tension structure?  Is it part of a phenomenal restaurant with a Michelin-star chef? Is it part of a new terrace for a resort that creates a wonderful mixed-use space for outdoor events?
Your story is your story.  Like social media, the audience wants a peek behind the curtain.  Your blog can be a clever and interesting way to tell a story. Here's a unique way one hospitality supplier used User Generated Content to write about hotel pens.
Do you want to interview the architect?  Do you want to profile the new menu? Do you want to showcase the types of entertainment your new venue holds?  Blogging can serve as a great vehicle to tell your story.
Bring all three together
Social media is a vehicle that works best with all of the cylinders firing.  If you're writing great blog content, share that content on your social media and in your newsletters.  If you are seeing awesome User Generated Content on social, incorporate it into your blog or newsletter.  Build the buzz long before your new project opens to the project, and create a sustained interest that continues in the months and years that follow.
Do you need the right design to turn your project into something buzzworthy? 
In the Tension Structures Division of Eide Industries, we specialize in design, engineering, manufacturing, and installation of structurally complex and creatively challenging commercial, government, and prototype design projects.  We provide expertise and support for architects, landscape designers, general contractors, and property owners to develop their custom tensile membrane project ideas and construct iconic structures.
Explore the options for your next project.  Contact one of our experts today by calling 800-422-6827.