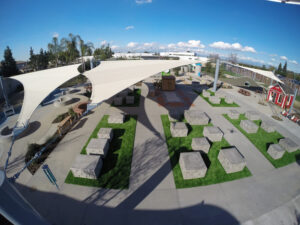 Are you an architect in need of additional AIA credits? Part of being a great architect means always continuing to learn and improve. Over time, like many other trades, the landscape of architecture also ebbs and flows. Without keeping up with these changes, it's easy for professionals to fall behind or get caught in the habit of sticking to what they know and understand best.
One way that our nation's top performers stay sharp is through consistently meeting the standards of the American Institute of Architects. Headquartered in Washington DC, the organization has members all across the country who are held to strict continued learning standards. The team at Tension Structures is proud to announce that we have developed a course with the AIA, entitled Creating Inspirational Architecture with Tensioned Fabric.
Continue reading below to learn more about our new AIA course, and how your team can gain credits towards maintaining good standing:
About Tension Structure's AIA Course
Our one-credit-hour course, entitled Creating Inspirational Architecture with Tensioned Fabric, provides AIA members with one unit towards their required workload. The course covers the fundamentals of tension structures, including their many benefits, shape varieties, and fabric options. It empowers architects to unleash their creativity in new ways that only the free form of architectural membranes can allow. It also provides the tools and knowledge to see a tension structure project through to successful completion.
We're confident that it provides a significant value to architects of all levels, and will give participants the knowledge and context they need to spearhead their own tension structure efforts. The best part? It's completely free.
Click here to learn more about the course, and how you can sign up.
Get Your Tension Structure Initiative Started
In the Tension Structures Division of Eide Industries, we specialize in the design,
engineering, manufacturing, and installation of structurally complex and creatively
challenging commercial, government, and prototype design projects. We provide expertise
and support for architects, landscape designers, general contractors, and property owners
to develop their custom tensile membrane project ideas and construct iconic structures.
Explore the options for your next project. Contact one of our experts today by calling 800-
422-6827.