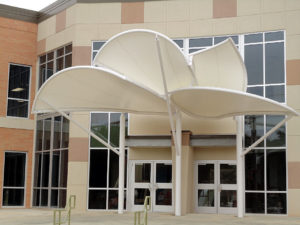 Your property improvements are likely on hold because of the COVID-19 pandemic. Many businesses may not be building, but they are preparing for summer when we possibly will emerge to a new normalcy. When those projects begin, choosing to install a tension structure may be one of your top line items. It's a commitment to finalize a structure that can easily stay in place for 15+ years. For the right buyer, tension structures can add incalculable value and an aesthetic that's uniquely theirs. With that said, we always advocate for our customers to do their research beforehand and evaluate whether or not this purchase is right for them.
Here are two factors to consider as you start your journey:
Budgetary Restrictions
Tension structures, while less expensive than conventional roofing fixtures, still have budgetary restrictions that buyers should consider. Typically ranging from $60-$400 per square foot, there's a lot of variability involved with buying and installing one of these onto your property. Everything from the overall size of the structure to the materials being used will impact the final cost. These shade structures are certainly not for the typical private residence.  Depending upon the overall size and scope of each project, prices start in the tens-of-thousands to hundreds-of-thousands of dollars.
Some may think that it's alright to go with the most cost-effective materials for their build. They must also closely consider their own unique needs and whether or not the materials at their price point will meet those constraints. Factors like weather, for example, have the potential to warrant much more expensive materials. If your property is located in an area that receives heavy snow or major variations in temperature, the use of the wrong materials can be disastrous.
Building Integrity
Next to overall budgetary restrictions, another factor that must be considered before installing a tension shade structure is your building's strength and integrity. Tension structures are not a "one size fits all" purchase. There is a significant mathematical component that involves the assessment of your proposed building location and its overall ability to support such a structure. Sites must be suitable to sustain 5,000 to 20,000 pounds of tension at each stress point; otherwise, severe structural damages may occur.
Before moving forward with any build, our team of skilled engineers goes in and does a full assessment of the proposed building location to ensure that all safety standards are met. From stamped engineering reports to thorough field measurements, every aspect of the property is analyzed from head to toe so that we're confident that your building location is a viable option for the tension structure you would like to assemble. Without meeting these standards, owners do risk significantly impacting the rigidity of the buildings that will be attached to the tension structure.
Get Your Tension Structure Initiative Started
In the Tension Structures Division of Eide Industries, we specialize in the design, engineering, manufacturing, and installation of structurally complex and creatively challenging commercial, government, and prototype design projects.  We provide expertise and support for architects, landscape designers, general contractors, and property owners to develop their custom tensile membrane project ideas and construct iconic structures.
Explore the options for your next project.  Contact one of our experts today by calling 800-422-6827.