As the country celebrates the 4th of July, the team at Eide Industries also celebrates our company's long history – rooted firmly in the American Dream.  Today, we continue our Made in the USA legacy by proudly designing, engineering, and manufacturing our products in our California-based facility.
Edgar Stanley Eide: Believing in the American Dream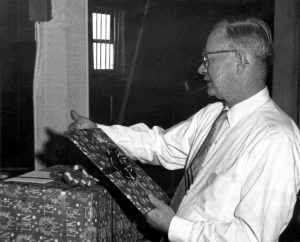 In the early 1920s, Edgar Stanley Eide landed on the shores of Seattle, having left his family's tent, sail, and awning-making company in New Zealand to chase the American Dream.  He worked as a craftsman for local canvas shops and eventually moved south to Los Angeles.
In 1938, Stan took the leap from being a craftsman to a business owner.  He purchased the High-Grade Tent and Duct Company, which would later be renamed to Eide Industries, Inc.  During World War II, Stan kept the doors open by manufacturing military tents and other supplies to support the U.S. Armed Forces overseas.
Eide Family Business: Made in the USA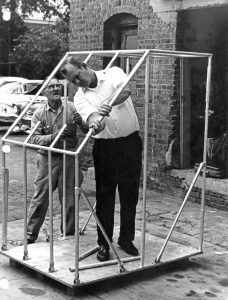 By the 1950s, High-Grade Tent and Duct Company was thriving – winning large contracts and moving (several times) into larger spaces in the LA area to accommodate the increasing volume.  Stan's two sons, Jack and Jim, were called upon to help manage the family business.  Jack and Jim incorporated the business under the name Eide Industries, Inc. in 1955.
When Stan retired from the company he loved so much in 1973, it signaled the beginning of a whole new era for Jack and Jim Eide and their two new partners, Don Araiza and George Ochs.  In fact, between 1973 and 1981, Eide was able to quadruple its business using the same formulas Stan had used 20-years earlier: hard work, precision craftsmanship, and strategic acquisitions.
Modern Technology – New Partners – Traditional Values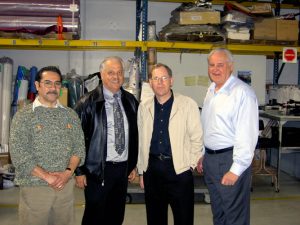 Although Jack and Jim Eide retired in the 1980s, Eide Industries Inc. has continued to thrive under the leadership of various partners who remained dedicated to the Eide Family's values, including the Made in the USA commitment.  To read the whole history of Eide Industries, Inc. (including those who contributed so greatly to our modern-day success), please visit our website.
Today, Eide Industries continues to operate from a 41,000 square foot facility in Cerritos, California.  We specialize in design, engineering, manufacturing, and installation of structurally complex and creatively challenging commercial, government, and prototype design projects, including architectural metal & fabric structures, kinetic shade systems, tensile structures, commercial awning and canopy systems, race transporter canopies, industrial sewn canvas products, and the list goes on and on.
All of Eide Industries products are made in the USA with the finest workmanship, a tradition established in the earliest days by Stan Eide's values for quality and excellence.  To explore the options for your next project, contact one of our experts today by calling 800-422-6827.