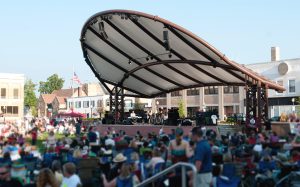 Tension membrane structures are today's most versatile way of incorporating unique solutions for design challenges associated with the architecture of a building and with the landscape architecture surrounding it.  From adding iconic beauty to improving a building's performance, tension membrane structures can add value for a wide range of projects.  However, just like with traditional construction projects, every element must be expertly designed and manufactured to ensure the structure is safe, efficient, and long-lasting.
As a design-build specialty contractor, the team at Tension Structures uses a four-stage process to ensure the project exceeds your expectations.
A Look Inside the Manufacturing Process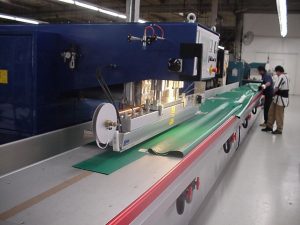 After working with our engineering team to ensure the design is efficient, feasible, and meets the required design load criteria, the manufacturing team steps in to bring your project to life. The supplied membrane is procured and arrives as rolled goods with standard widths. During the fabrication phase, the pre-stress PTFE or PVC fabric membrane is cut and welded to create the final panel sizes to be installed in the field.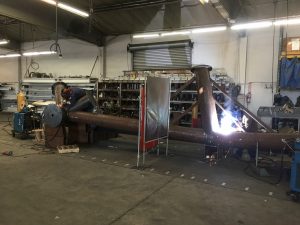 The structural steel members of the frame are created based on the design and engineering.  Steel plates may be used to build a custom shape or tapered beams.  Trusses may be built to span greater distances.  Curves and bends are formed as necessary.  Frame connections are constructed.  Simply put, each element of the structure is expertly crafted and then carefully packaged for shipping and unpacking on the job site.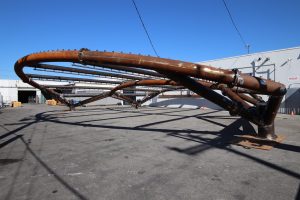 Operating from our 41,000 square foot manufacturing facility in Los Angeles, there are virtually no limitations to the size and complexity of the tension membrane structures we can build.
Our Manufacturing Capabilities Include:
Two 35-foot long RF (Radio Frequency) Heat Sealing Machines to weld PVC (Polyvinyl Chloride) and other high-frequency textile fabrics.
Frame welding of carbon steel, aluminum, and stainless steel (Los Angeles Approved Type 1 Metal Fabricator #1716).
Large format rolled ink, vinyl adhesive, eradication, cut and radio frequency sealed graphics, cold and heat transfers, and digital applications.
High-temperature PTFE (Polytetrafluoroethylene) heat sealing machine to weld fabric membranes.
Industrial sewn membrane covers with HDPE (High-Density PolyEthylene) mesh or solid Acrylic fabrics.
Custom full-size fabric pattern plotting, cutting, scanning, and digitizing services for engineered precision fittings.
Whether it's a permanent durable PTFE membrane canopy or deployable flexible PVC fabric structure, Tension Structures by Eide Industries will help you discover new solutions to conventional design challenges.  For a closer look into our four-stage design/build process, click here.
Are Tension Membrane Structures Right for Your Next Project?
In the Tension Structures Division of Eide Industries, we specialize in design, engineering, manufacturing, and installation of structurally complex and creatively challenging commercial, government, and prototype design projects.  We provide expertise and support for architects, landscape designers, general contractors, and property owners to develop their custom tensile membrane project ideas and construct iconic structures.
Explore the options for your next project.  Contact one of our experts today by calling 800-422-6827.