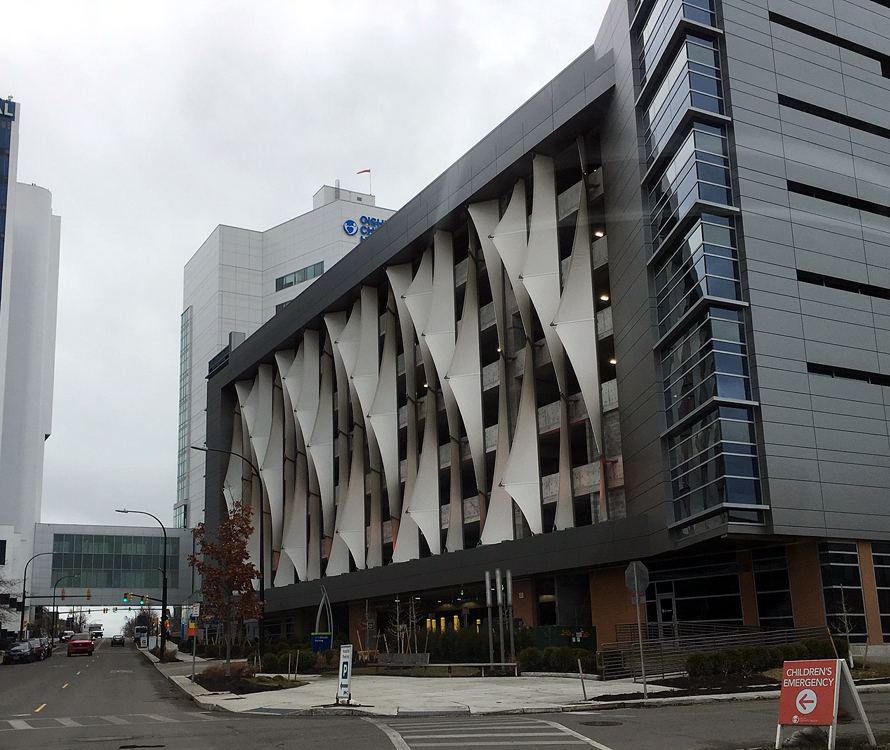 The Buffalo Niagara Medical Campus (BNMC) in Buffalo, New York is so much more than a hospital and research center.  In addition to their clinical care, research, and education functions, the non-profit organization is on "a mission of furthering economic growth, igniting urban revitalization, and building a strong, thriving community."
Among their many facility expansion and enhanced infrastructure projects, BNMC is dedicated to implementing leading transportation technologies, including innovative parking garage solutions, into the current redevelopment of the Main Street District – supporting the ultimate "Smart Corridor" vision for the area's future.
Creating a Place of Energy and Inspiration
When working with an organization like BNMC, projects must go above-and-beyond to blend cutting-edge functionality with community-centric designs – creating spaces that add value, improve efficiency, and bring people together.
The new parking garage structure at the BNMC was incorporating state-of-the-art parking fee systems and a temperature regulated pedestrian bridge, and the organization also wanted to ensure the exterior of the structure added to the streetscape.  Tension Structures was awarded the contract to design, manufacture, and install artistic vertical fabric sails that "danced" alongside the envelope of the parking garage.
Designing "The Dancing Kids"
Working adjacent to the Kaleida Health – Oishei Children's Hospital facility, our goal for the project was to construct unique tensile membrane parking garage solutions that spark a sense of hope and inspiration.  We used Sheerfill V – PTFE-Coated Fiberglass panels that undulate from side-to-side with an anticlastic twist to the membrane.  The result is an extraordinary tensile facade that is aptly named "The Dancing Kids."
With a total project size of 4,662 square feet, the dynamic facade can be seen from various viewpoints on the surrounding city streets and throughout the campus, and the colorful LED lighting system provides another dimension of versatility. The high light transmission of the PTFE fabric made this project an ideal candidate for up-lighting and back-lighting – all of which helped to create its signature nighttime identity.
To learn more about tensioned membrane architecture and its role in creating cost-effective parking garage solutions, read our post: A World of Opportunity – An Introduction to Tensioned Membrane Structures.
Looking for One-of-a-Kind Parking Garage Solutions for Your Next Project?
In the Tension Structures Division of Eide Industries, we specialize in design, engineering, manufacturing, and installation of structurally complex and creatively challenging commercial, government, and prototype design projects.  We provide expertise and support for architects, landscape designers, general contractors, and property owners to develop their custom tensile membrane project ideas and construct iconic structures.
Explore the options for your next project.  Contact one of our experts today by calling 800-422-6827.