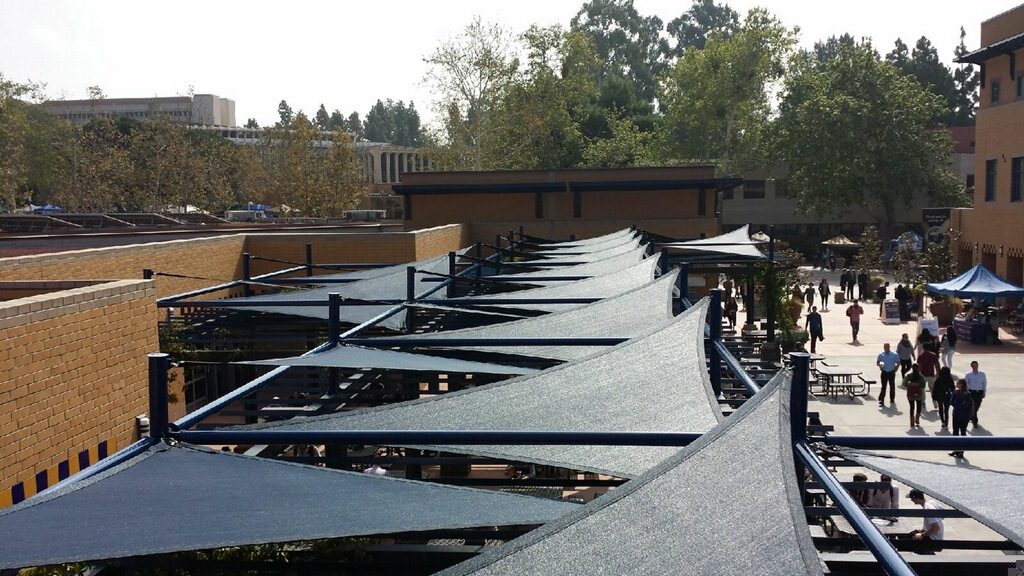 The Student Center on the UC Irvine (UCI) Campus houses the Visitor Center for prospective students and a wealth of amenities for current students ranging from study rooms to on-campus laundry services.  In recent upgrades to the facility, the Office of the President awarded Eide Industries with the contract to design, manufacture, and install 42 triangular tensioned membrane shade structures in three areas surrounding the Student Center.
The goals of the project were to increase comfort for the outdoor seating areas and add aesthetic appeal to the building's exterior, while also providing some indirect energy efficiency benefits.
Eide Industries and UC's "Best Value Contractor Selection" Pilot Program
At the time the project was awarded, the University of California (UC) system was operating the Best Value Contractor Selection Pilot Program, an alternative to the traditional design-bid-build method of public works contracting.  In addition to evaluating traditional bid prices, Best Value (BV) Procurement permitted UC to consider additional value a bidding contractor offered for a project – placing a higher emphasis on value and collaborative processes.  UC found that this process rewarded well-researched bids, eliminated bid risk to the University and the winning contractor, and set the stage for fewer change orders or claims.
Public Contract Code Section 10506.5 outlined the five qualifications that would be exclusively evaluated during the BV Contractor Selection Process.  Eide Industries was evaluated on the following categories:
Financial condition
Relevant experience
Demonstrated management competency
Labor compliance
A safety record that has been embraced by the construction community
It was a great honor to be selected by UCI for the project.
Technical Information on the UCI Tensioned Membrane Shade Structures
The team at Tension Structures (a division of Eide Industries) created a triangular shade sail design that was both visually appealing and functional, and that provided a unifying appearance to three different outdoor areas surrounding the building.  A navy blue Polyfab Polytex® High Density Polyethylene (HDPE) Mesh Fabric was chosen primarily for its flame-retardant qualities and cost-effectiveness.  The project was engineered to sustain wind loads of up to 90MPH (Exposure C).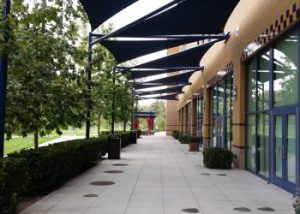 Ballroom Patio Shade Canopies (Area A) – Twelve tensioned panels were used to provide coverage to a 4,368 square foot patio outside the Student Center's Ballroom space.  The overall dimensions were:
20'-7" High
21' Projection
208' Wide
Bookstore Cantilever Hanger Rod Entry Canopy (Area B) – Six tensioned panels were used to cover the entryway to the university's bookstore, providing 218 square feet of shade coverage.  The overall dimensions were:
10′ High
9′-6″ Projection
23′ Wide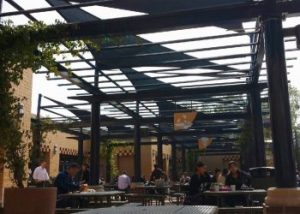 Student Center Seating Area Canopy System (Area C) – Using twenty-four tensioned panels and twenty-five 4'High extension posts that were mounted atop existing trellis posts, the canopy system provided 2,700 square feet of shade coverage.  The overall dimensions were:
22′" High (including existing trellis)
45′ Projection
120′ Wide
For more information on our work with Universities and Schools, please visit our post: How Tensile Fabric Structures Can Improve Your School or University.
Are Tensioned Membrane Shade Structures Right for Your Next Project?
In the Tension Structures Division of Eide Industries, we specialize in design, engineering, manufacturing, and installation of structurally complex and creatively challenging commercial, government, and prototype design projects.  We provide expertise and support for architects, landscape designers, general contractors, and property owners to develop their custom tensile membrane project ideas and construct iconic structures.
Explore the options for your next project.  Contact one of our experts today by calling 800-422-6827.