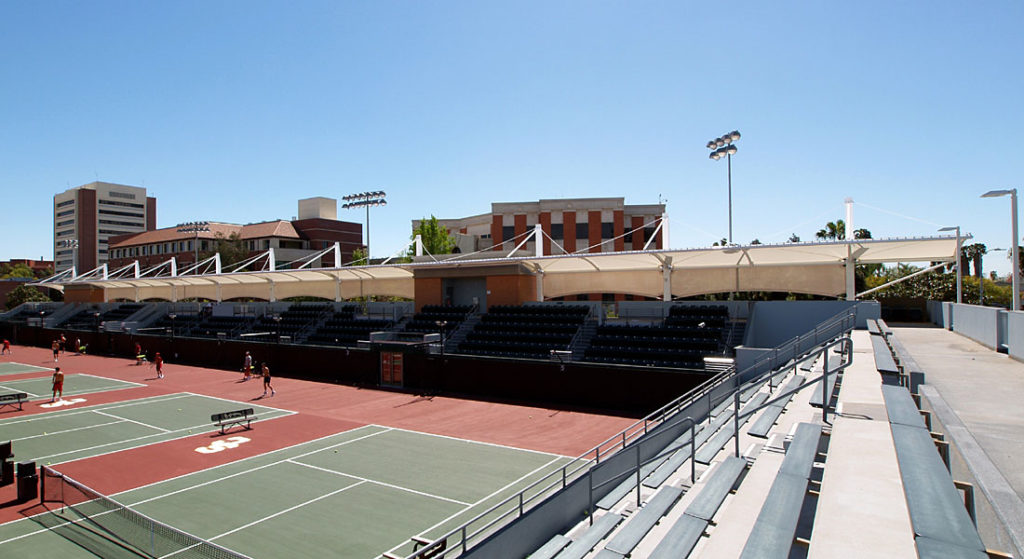 In 2015, the University of Southern California (USC) launched a major renovation of the David X. Marks Tennis Stadium – home to the university's men's and women's tennis teams.  In addition to the 2,000 square foot facility expansion, significant interior renovations, and technology upgrades, the project included the creation of large shade canopies to provide much needed UV protection for spectators in the main grandstand.
The project included the main shade canopies and vertical mesh screens, which were added to the design to resolve glare issues on the court.
Protecting Spectators: The USC Marks Tennis Stadium Main Shade Canopies
Using an iconic barrel vault shape, the main shade canopies stand about 43' high, stretch about 14' over the stands, and run about 357' of the stadium's length – providing approximately 4,783 square feet of shade coverage.
The top cover uses non-combustible Sheerfill V PTFE-coated fiberglass fabric, which is considered one of the more durable materials in the fabric structures industry.  Additionally, the entire structure is engineered for 115 MPH Wind-Loads (Exposure "C").
The Importance of Shade Studies: Proactively Resolving Potential Glare Issues at USC Marks Tennis Stadium
The team at Tension Structures worked alongside USC Staff and the architects at DLR Group to design shade canopies that could maximize shade coverage throughout the tennis season.  To accomplish this, we used 3D modeling software to conduct thorough shade studies – which proved to be invaluable to the project's success.
While the goal of the canopies was to protect spectators, the shade studies revealed that the initial design could have had a negative impact for players down on the court.  Harsh afternoon sunlight was able to penetrate between the stadium and the shade canopies – creating a strobe-light effect when players tracked the ball through the canopy's shadow, into the sun stripe, and then into the stadium's shadow.  This would be incredibly problematic, as it would put one team at a significant disadvantage.
It was important to resolve the issue with minimal disruption to the planned shade canopies.  So, we designed, fabricated, and installed vertical screens that extended between the canopy columns. This solution complemented the original architectural design, reinforced the engineering requirements, and reduced sun glare by 80% – while providing approximately 1,384 square feet of additional shade.
In the end, the shade canopies and vertical screens created a stunning visual effect while also achieving all of the functional goals.
Are Tensioned Membrane Shade Canopies Right for Your Next Project?
In the Tension Structures Division of Eide Industries, we specialize in design, engineering, manufacturing, and installation of structurally complex and creatively challenging commercial, government, and prototype design projects.  We provide expertise and support for architects, landscape designers, general contractors, and property owners to develop their custom tensile membrane project ideas and construct iconic structures.
Explore the options for your next project.  Contact one of our experts today by calling 800-422-6827.