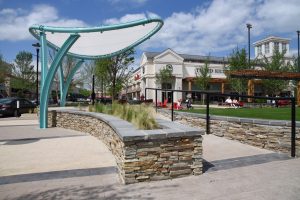 So you want to provide shade over summer concert bands, and offer rain protection for performers in the fall and spring, and you want to put up a 30-foot holiday tree in the winter, all in the same space?  No problem.  Introducing the removable Tension Structure where frame and fabric are easily removed so you can maximize the value of your venue for all seasons.  This stage canopy in White Marsh, Maryland at The Avenue has been constructed with a sectionalized lightweight aluminum upper frame complete with attachments for light fixtures.  The fabric is easily tensioned to the frame using adjustable drawn bolt connections at 12" on centers.
Artists and performers are much more inclined to book a stage with sun and rain protection so they don't have to worry about cancellations due to weather.  A waterproof Tension Structure with the natural light transmission is the perfect solution.  And with the feature of removability, the canopy can be stored locally on site, and the property owners can continue their tradition of displaying a festive Christmas tree on the stage during the winter holiday season.
The above Tension Structure is 17' 7" wide by 19' 3" projection, with a total surface area of 272 sqft.  The frame is finished with a primer and powder coat.  The fabric is Tenara 4T40 by SEFAR.  Design by STUDIO39.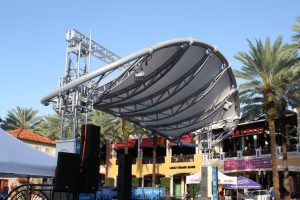 Hurricane winds can also pose a problem for lightweight structures.  This stage canopy in West Palm Beach, FL at the City Place has a series of truss segments that are butt-and-bolted together so they can be disassembled and packed away with the fabric still connected to the frame components.  The upper frame rides on a motorized vertical truss for easy access.
This Tension Structure frame is also constructed of lightweight aluminum.  Although steel is slightly stronger than aluminum, the weight of aluminum is one-third of steel.  With slightly larger member sizes, you can build an aluminum frame for about half the weight of a comparable steel structure.
Tenara 4T40 fabric was selected for this canopy because of its 38% light transmission and ability to be backlit.  With second story shops and restaurants, the canopy is visible from nearly any angle.  The fluid distribution of lighting allows the canopy to look magnificent from any approach.
Many mixed-use properties have temporary features depending on the season.  Tysons Corner Center in Tysons Corner, VA requires shade in the muggy summer, but they offer ice skating in the same space during the winter.  This aperture styled Tension Structures use lightweight aluminum frames with segmented pieces that weigh less than 238 pounds each.
The colorful PVC mesh fabric panels (Serge Ferrari's Soltis FT381) utilize corner membrane plates and turnbuckle attachments to the frame for simple attachment and dismantling.  There are three canopies on site.  Each one can be completely disassembled and loaded on a custom trailer rack for storage.
Contact us for your next Tension Structure project.