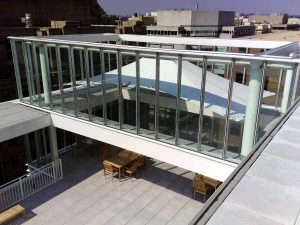 Designing a commercial business park or corporate campus means more than designing attractive buildings.  These projects require an ideal balance between indoor and outdoor spaces – all of which must be practical and functional.  The versatility of tensile fabric architecture helps architects and landscape architects overcome a wide breadth of design challenges while adding significant value to the property.
Energy Efficiency & Interior Comfort
Tensile facades are a form of tensile fabric architecture that act as a second skin to a building.  Among their many benefits, tensile facades are widely celebrated for their ability to increase a building's energy efficiency by blocking heat-inducing UV rays and passively cooling the building by 10-15O.  At the same time, the transparent nature of the fabric supports the flow of natural, diffused light into the building's exterior – which has been shown to increase productivity in office buildings and improve patient wellbeing in hospital settings.
Outdoor Patios & Gathering Places
Business park complexes and corporate campuses are attractive to tenants because of the range of amenities the property offers.  Tensile fabric architecture gives architects and designers the ability to create highly functional gathering places – such as outdoor seating areas for private meetings, greenspaces for healthy breaks during the workday, and larger venues for property-wide events.
Parking Lots & Garages
According to the U.S. Census Bureau, there are approximately 105 million commercial parking spaces in our country – and every business park or corporate campus must take employee parking into consideration.  If your design calls for parking garages, tensile fabric architecture provides unique solutions for protecting vehicles from the elements, adding a layer of security to structures, preserving natural airflow and light, and incorporating unforgettable aesthetics that blend in with the rest of the property.  For traditional parking lots, tensile fabric architecture can provide weather protection while also addressing environmental issues, such as water controls or solar energy initiatives.
Walkways & Waiting Areas
Designing for functionality means considering ways to improve comfort for property users.  Due to their high number of commuters, business parks and corporate campuses are often looking for ways to increase participation in shared-ride programs and public transportation initiatives – an opportunity for incorporating great design!  Whether you're looking for ways to maximize comfort in high-traffic outdoor walkways, waiting areas, or entryways, tensile fabric architecture provides cost-effective solutions for improving these areas with dependable weather protection and heating elements for those cold winter months.
Is Tensile Fabric Architecture Right for Your Next Business Park or Corporate Campus Project?
In the Tension Structures Division of Eide Industries, we specialize in design, engineering, manufacturing, and installation of structurally complex and creatively challenging commercial, government, and prototype design projects.  We provide expertise and support for architects, landscape designers, general contractors, and property owners to develop their custom tensile membrane project ideas and construct iconic structures.
Explore the options for your next project.  Contact one of our experts today by calling 800-422-6827.