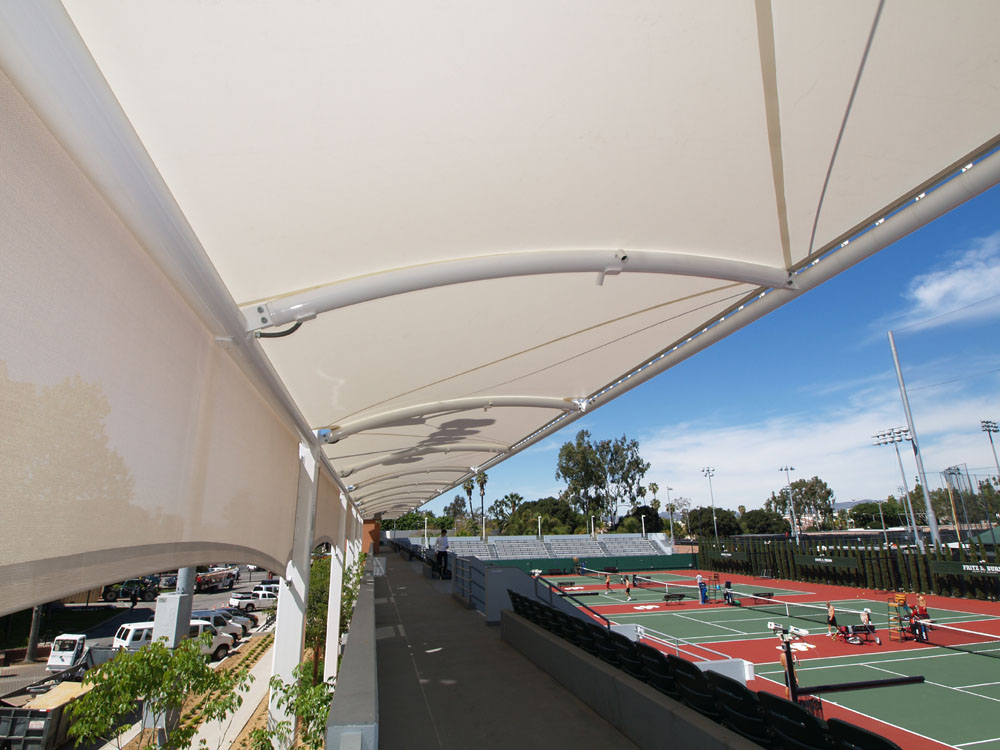 The Many Faces of Tensile Facades: Explore the Opportunities and Applications
As architects, builders, and property owners all struggle to balance energy efficient initiatives with the realities of project budgets, there's a constantly growing need for innovative solutions.  And tensile facades have become one of the most dynamic answers to industry challenges.
Versatile and effective, tensile facades employ passive cooling concepts to help reduce interior temperatures by up to 10-15o – reducing property's energy usage while adding a modern aesthetic appeal.
Tensile Facades & Their Most Popular Applications
The truth is that tensile facades can have a spectacular functional and aesthetic impact on nearly every new construction or renovation project.  However, here's a brief exploration of the most common applications.
Parking Structures – Increase aesthetics of the structure, reduce light pollution, and alleviate the surrounding community's concerns, while adding an additional layer of protection for customers' vehicles.
Sports Arenas & Stadiums – Instantly update the look of your building, create shade for walkway ramps that may hug the exterior of a stadium, and enjoy an exceptional opportunity for branding (for either home team support or profit-generating sponsorships).
Schools & Universities – Alleviate the strain on your air conditioning system (and energy budget), update boring or outdated building exteriors, support exposure to natural sunlight, and create an excellent branding opportunity.
Office Buildings – Increase productivity, reduce eye strain and glare, lower the property's contributions to urban heat island effect, and differentiate the building in a sea of similar properties.
Hospitals & Medical Facilities – Improve patient outcomes and healing times, block solar heat gain, and add privacy, while also protecting patients' view of the outside world.
Hotels – Add brand visibility, create iconic aesthetics, update dingy or dated exteriors, and reduce wasted energy all at the same time.
Apartment Complexes – Raise your property value and rental income potential, while maximizing interior comfort and lowering tenants' electric bills.
Historical Buildings – Navigate upgrades that must adhere to challenging building codes with lightweight, non-permanent, and less-intrusive tensile facades.
Are Tensile Facades Right for Your Next Project?
In the Tension Structures Division of Eide Industries, we specialize in design, engineering, manufacturing, and installation of structurally complex and creatively challenging commercial, government, and prototype design projects.  We provide expertise and support for architects, landscape designers, general contractors, and property owners to develop their custom tensile membrane project ideas and construct iconic structures.
Explore the options for your next project.  Contact one of our experts today by calling 800-422-6827.