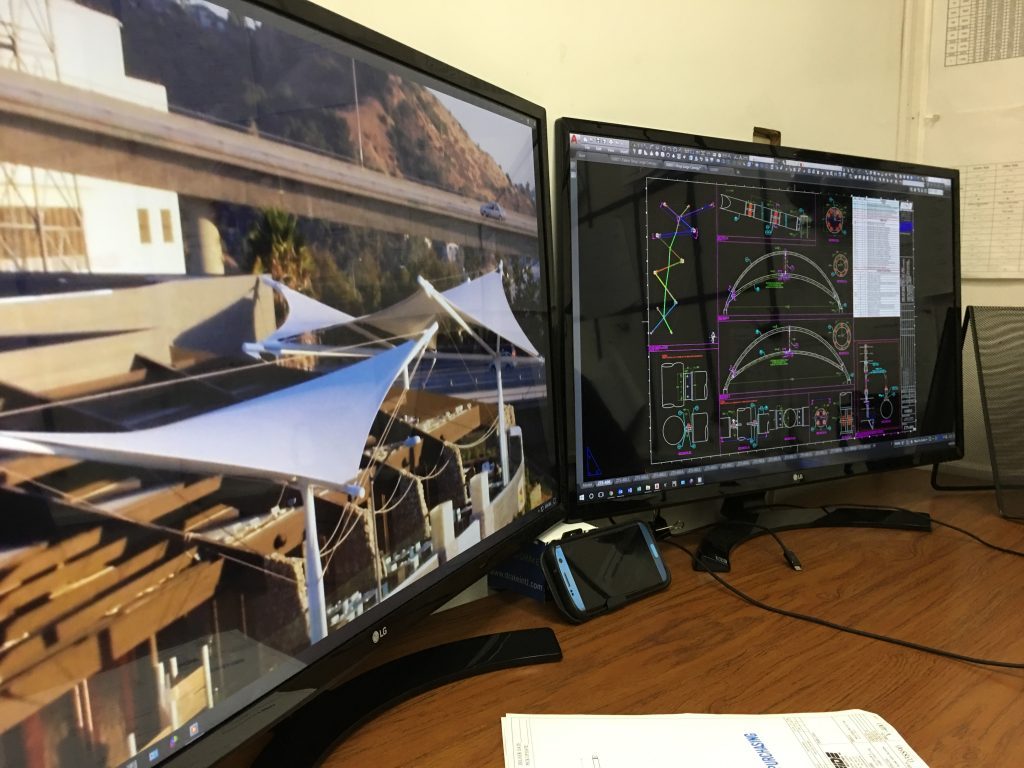 Being a full-service design/build contractor, many of our clients come to us with a rough concept or basic vision, and the Tension Structure Design and Engineering Teams help to bring those ideas to life.  The design team's expertise transforms those initial thoughts into visual concepts that fuse style with functionality.  Then, the engineering team begins its work to ensure the design is efficient, feasible, and meets the required design load criteria.
As you approach the design and engineering stages of your project, we wanted to pull back the curtain and give you a behind-the-scenes look into the powerful software programs that make it all possible.
SketchUp
SketchUp is 3D design and modeling software that's ideal for everything from schematic designs to construction documentation.  For our team, it's also ideal for creating beautiful 2D and 3D renderings to show our clients what the final design will look like when it's all said and done.
Fabric Form Finding with Plug-in "Soap Skin"
3D Warehouse with Existing Models
Preliminary Design Schemes
Export to DWG or DXF
Easy Renderings
Shade Studies
The MPanel Suite
MPanel offers a suite of software products that are tailored specifically for tension structure design and engineering projects.  MPanel Pro provides 3D form-finding and 2D patterning support as our designers work in AutoCAD and Rhino.
Offers a Fabric Form Finding Plug-in for AutoCAD
Supports Complex Shapes, including Cones, Hypars, and Custom
Creates Patterning for Cutting Tables
Provides Tension Ratio in Warp (Long Direction) & Weft (aka Fill)
MPanel FEA is Finite Element Analysis software that allows the engineering team to analyze the 3D models for reactions to environmental factors, including wind and snow loading.
Calculates Stress on Fabric and Cables
Identifies Displacement from Loads
Verifies Gradient to Prevent Ponding
Determines Reaction Loads
RISA-3D
RISA-3D is a leading structural engineering software that streamlines engineering analyses and problem solving.  It's packed with design codes for a wide range of materials and integrates with other leading RISA programs.
Runs FEA on Frame with Imported Fabric Loads
Determines Member Sizing and Cable Diameters
Provides Reaction Loads for Foundation Design
SAP2000
SAP2000 is often touted as the most integrated and practical "general purpose" structural program on the market – delivering solutions for structural analyses from simple 2D static frame analyses to complex 3D nonlinear variations.
Determines Member Sizing and Cable Diameters
Provides Reaction Loads for Foundation Design
Simulates Fabric Loads with a Cable Net
Runs FEA on Frame and Cables
Total Solution Software: Membrane NDN & ixForten 4000
Membrane NDN and ixForten 4000 are also core programs we use for engineering analyses and planning.  Both are often considered "total solution" programs because of their versatility.
Determines Fabric Stress, Member Sizing and Cable Diameters
Provides Reaction Loads for Foundation Design
Runs FEA on Fabric, Frame and Cables
Finds Potential Ponding Issues
Are You Ready to Get Started with Your Next Tension Structure Design?
In the Tension Structures Division of Eide Industries, we specialize in design, engineering, manufacturing, and installation of structurally complex and creatively challenging commercial, government, and prototype design projects.  We provide expertise and support for architects, landscape designers, general contractors, and property owners to develop their custom tensile membrane project ideas and construct iconic structures.
Explore the options for your next project.  Contact one of our experts today by calling 800-422-6827.