In the restaurant industry, owners and operators are continually looking for ways to improve the guest experience.  From a better ambiance to more functional space, a tensioned membrane structure can optimize your usable space and expand your restaurant's versatility.
Comfort at the Valet or Entryway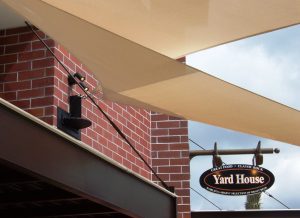 Regardless of the weather, you can make sure your guests' experiences start off right by providing protection from the elements at the valet and entryway.  This becomes even more important for restaurants that often place "walk-ins" on the waitlist, as guests will quickly change their minds if they don't have a comfortable place to wait in the hot sun or cold rain.
All-Weather Outdoor Dining Space
From increasing your number of covers for the day to offering guests a seat in the coveted open-air ambiance, your outdoor dining space is likely one of your most valuable assets, and it can be frustrating when you cannot use it year-round.  A tensioned membrane structure gives restauranteurs a wide range of solutions for creating an ideal indoor/outdoor space.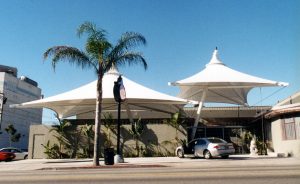 On one hand, commercial-grade retractable canopies or roof structures are a semi-permanent option that gives the operators flexibility to extend or retract the unit as the guests' needs change.  For a more permanent solution, there tensioned membrane structures can be designed to address the property's specific goals.  For example, shade sails provide strategic shade coverage for locations where hot midday sun is the primary concern.  On the other hand, locations with more dramatic weather patterns may look to a full-coverage conical tension structure, which offers sun and rain protection while allowing the facility to maximize their outdoor heating units
Aesthetic Appeal for Indoor Designs
When moving into a new space or renovating your current one, it's common to search for ways to soften an industrial-looking ceiling or to add color in a unique way.  Tensioned membrane structures are often used indoors to add to the aesthetics of a restaurant.  The sail-like design of some of our structures is an especially perfect fit for seaside restaurants.
Here are just some of our past restaurant projects:
Is a Tensioned Membrane Structure Right for Your Next Project?
In the Tension Structures Division of Eide Industries, we specialize in design, engineering, manufacturing, and installation of structurally complex and creatively challenging commercial, government, and prototype design projects.  We provide expertise and support for architects, landscape designers, general contractors, and property owners to develop their custom tensile membrane project ideas and construct iconic structures.
Explore the options for your next project.  Contact one of our experts today by calling 800-422-6827.