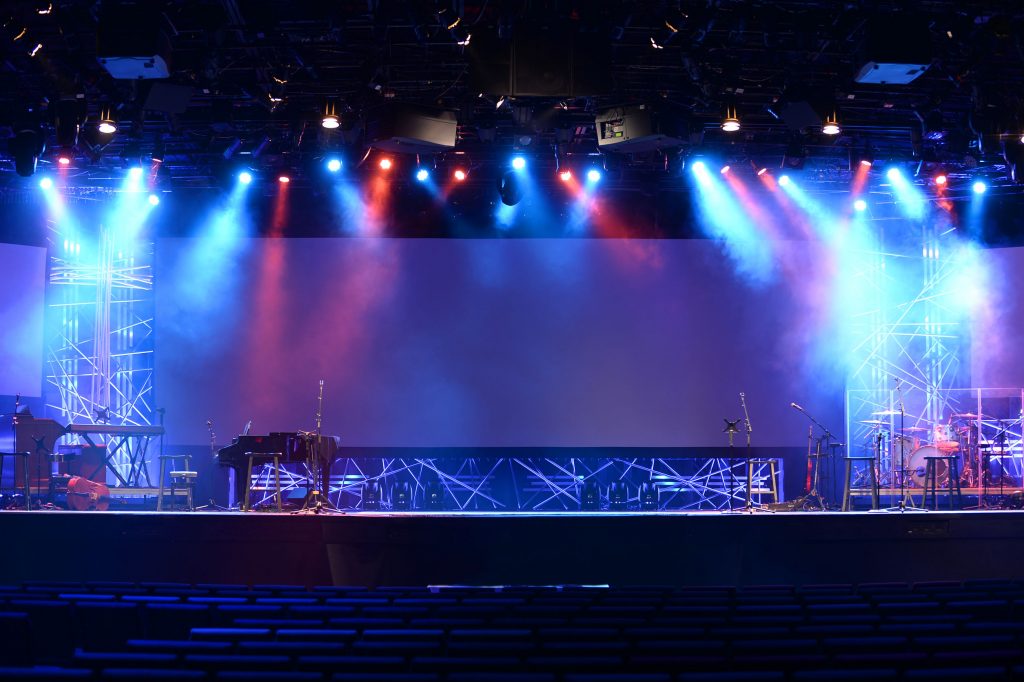 Today's music lovers want an experience when listening to live music.  Especially within the Millennial Generation, event attendees are increasingly expecting an all-encompassing entertainment experience that engages their senses – beyond the music.  To address growing trends, music venue designs need to be more versatile, and the modern materials used in textile architecture continues to make tension structures and tensile facades widely celebrated solutions – both indoors and out.
Aesthetic Transformation for Music Venue Designs
Today's architectural trends often feel contradictory.  End users want warmth and intimacy and clean lines and open space.  They enjoy the concept of repurposing industrial spaces but require a cozy ambiance to feel at ease.  With an endless range of design options –from fabric sails to free-standing structures – textile architecture brings a sense of warmth, familiarity, and softness into those music venue designs or multipurpose event spaces that may not have been able to overcome their aesthetic challenges otherwise.
Visual Versatility – Fabrics can be smooth and monolithic or add texture and depth to music venue designs.  They can billow and float, or they can be stretched taut to act as suspended ceilings.  The unsurpassed versatility is one of the top benefits of using textile architecture indoors.
Structural Art – From indoor venues to outdoor festivals, music and art are closely intertwined.  Textile architecture empowers you to deliver functionality that's masked as structural art.
Lighting – In indoor spaces, strategic lighting choices can have a brilliant impact on textile architecture, bringing the space alive with diffused light and/or vibrant colors.
Privacy – Sheer fabrics can redefine an architect's definition of a private space. Stunning effects can be achieved by creatively combining textile choices with back-lighting designs.
Functional Enhancements for Music Venue Designs
From tension structures to tensile facades to retractable awnings, textile architecture is celebrated across the globe for its endless possibilities.  Textiles are cost-effective solutions for adapting interior spaces, creating freestanding enclosed structures, or transforming an outdoor venue into a weather-protected indoor/outdoor location.  The opportunities are only limited by your imagination.
Reflective Properties – Today's high-tech fabrics add another layer of creative freedom for music venue designs, as the fabric can be chosen for its reflective properties to support visual displays or for its light absorption to create a diffusing effect.
Acoustic Benefits – Textile architecture can improve your venue's acoustics by helping to absorb some of the unwanted reverberating soundwaves, but more importantly, they're an appealing way to mask unsightly high-frequency acoustic foams.
Structural Flexibility – With textile architecture, you're able to offer your clients unparalleled flexibility.  In many applications, the cost of future renovations can be minimized, since replacing the fabric membranes can have a powerful impact without replacing the entire structure.  For larger scale flexibility, removable tension structures may be the ideal answer.
Is Textile Architecture Right for Your Music Venue Project?
In the Tension Structures Division of Eide Industries, we specialize in design, engineering, manufacturing, and installation of structurally complex and creatively challenging commercial, government, and prototype design projects.  We provide expertise and support for architects, landscape designers, general contractors, and property owners to develop their custom tensile membrane project ideas and construct iconic structures.
Explore the options for your next project.  Contact one of our experts today by calling 800-422-6827.