Tension structures can be used in a variety of applications and settings. They range from shopping centers and restaurants to commercial buildings, schools, and much more. At Eide Industries, we specialize in tensile structures and offer customization to suit your project. These tensile membranes and structures offer a great number of benefits to any project that aren't merely functional. They're aesthetically pleasing design solutions as well. As you'll see below, they are colorful and add personality. We can collaborate with you on your design.
City of Oranjestad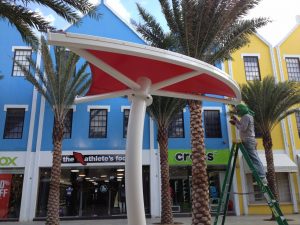 The Caribbean is known for its colorful buildings and architecture. It's no surprise this project had to inject some element of color. The government of Aruba commissioned Eide Industries to fabricate 18 custom tensioned canopies for Oranjestad, the capital city of Aruba. Inspired by the city's native Divi Divi trees, the red canopies provide a pop of color and shade. These elements complement the colorful buildings along the boulevards in this shopping district. 
Angie Fowler Institute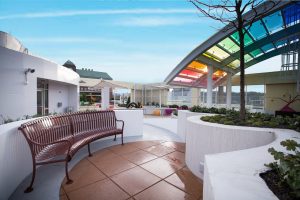 Rooftop gardens offer serenity and respite in the sunlight, away from the hospital environment. For the Angie Fowler Institute at the Rainbow Babies and Children's Hospital in Cleveland, Ohio, the outdoor space was designed using PTFE coated fiberglass canopies that offer transparency and a whimsical "rainbow" of many colors in its panels. The canopies, in addition to the garden and bright outdoor furniture, are a beautiful combination. 
Success Academy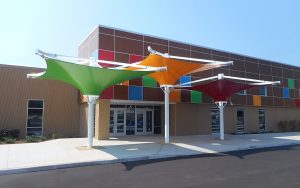 For the remodel and expansion of the Success Academy South Bend, a K-6 charter school in South Bend, Indiana, the designers were looking for a colorful shade solution to blend with the school's exterior. Eide Industries created custom fabric tiles for the tension structures to match. The dual-layer solution will give the school 15 years of wear as well.
Nevada Visitor's Center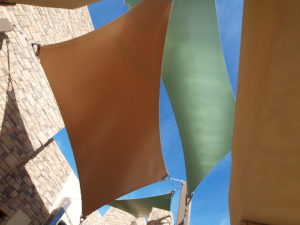 The green and orange fabric panels used for shading the exterior of the Nevada Visitor's Center in Searchlight, Nevada are made of PVC. Seemingly drawn from the colors of the desert plant life, the green and orange hues and the unique shape of the panels create a sense of playfulness. But that's not all — these panels hold their shape and can withstand high desert winds.
Tension structures offer many advantages that include functionality, aesthetics, and practicality. If you have any questions on how tension structures could benefit your next project, our team is happy to help.
In the Tension Structures Division of Eide Industries, we specialize in the design, engineering, manufacturing, and installation of structurally complex and creatively challenging commercial, government, and prototype design projects. We provide expertise and support for architects, landscape designers, general contractors, and property owners to develop their custom tensile membrane project ideas and construct iconic structures.
Explore the options for your next project. Contact one of our experts today by calling 800-422-6827.