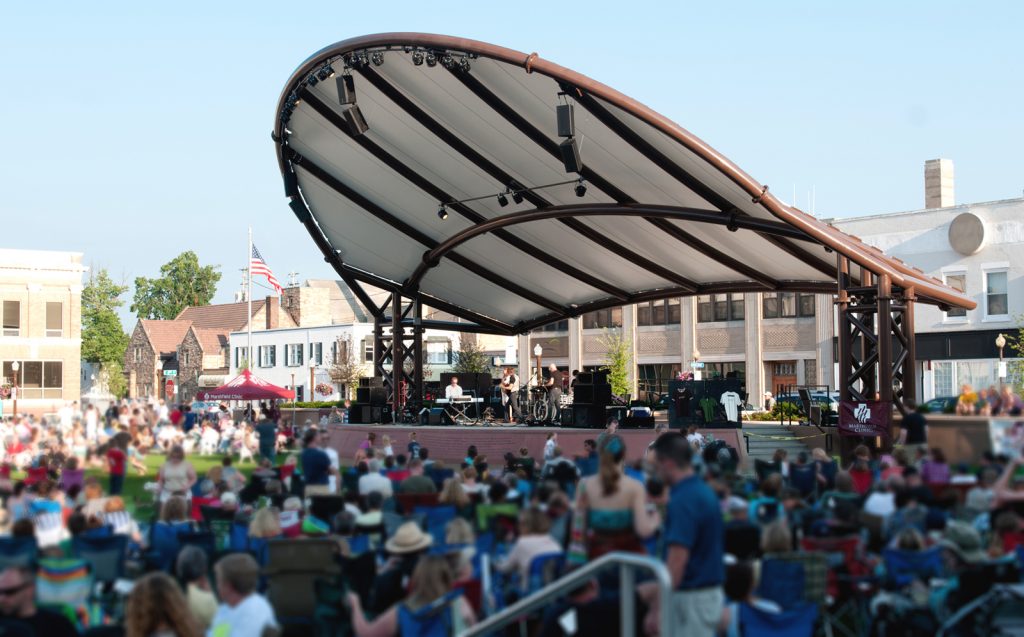 Tension structures are architecturally innovative forms of construction that allow amazing design flexibility to address a wide range of building challenges, including visitor experience, aesthetic appeal, and energy efficiency.  These structures blend artistic form with dependable functionality to create a compelling and exciting atmosphere.
Whether you're an architect, landscape designer, general contractor, or property owner, tension fabric structures offer valuable and unique benefits over traditional construction options.
Economic Benefits of Tension Structures
When you are looking to create a structure that covers a significant amount of space, traditional building options can become very costly very quickly.  With the long-lasting and innovative membrane materials available such as PTFE-coated fiberglass or PVC membrane, tension fabric structures are able to span long distances with minimal structural support.  This reduces project cost without sacrificing quality.
Functional Benefits of Tension Structures
Tensioned fabric structures have become known for their wide array of functional benefits, including their durability, longevity, and minimal maintenance requirements.  They are relatively quick to install, and allow property managers and owners to focus their energies on other aspects of the property without having to worry about constant upkeep.
The translucency of the fabric canopies produces a soft, diffused light during the daytime, which reduces the cost of lighting spaces.  Lighting design can easily be incorporated to create a luminescence at night that is visually appealing and supports the property's security.
Aesthetic Benefits of Tension Structures
Architects, landscape architects, and designers love working with tension membrane structures because they are able to experiment with form and shape to create exciting signature projects.  By using varying shapes, layers, and graphics, even ordinary spaces can be transformed into living art installations.  And these beautiful tensile structures have the added benefit of offering more usable space for visitors to the property.
For the evening hours, lighting can add a unique glow to the membrane, creating yet another signature look.  Up-lighting with LED lights makes the opportunities for unique designs truly endless.
Sustainability Benefits of Tension Structures
As a buzz word that will likely never disappear from our design and construction vernacular, sustainability is an essential element of all new builds, renovations, and property improvements.  Tensioned membrane structures help to increase LEED energy performance by reducing electric usage.  A tensile facade can create a building covering that blocks heat-inducing UV rays, so cooling costs drop dramatically.  Tensile fabric canopies allow substantial natural daylight, so daytime lighting costs become minimal.  Additionally, the lightweight, advanced materials result in the need for less steel, which makes the project more environmentally sensitive.
Explore the Tension Structures for Your Project
In the Tension Structures Division of Eide Industries, we specialize in design, engineering, manufacturing, and installation of structurally complex and creatively challenging commercial, government, and prototype design projects.  We provide expertise and support for architects, landscape designers, general contractors, and property owners to develop their custom tensile membrane project ideas and construct iconic structures.
Explore the options for your next project.  Contact one of our experts today by calling 800-422-6827.