Tension structures have many different applications. They can add value to a building with minimal cost and upkeep, provide shade, protect against the elements, and update the look of an aging building. While tensile structures offer many benefits, discover how they can be a solution to your construction challenges. Here are a few examples of creative uses for tension structures.
The Morongo Casino in Cabazon
Tension structures can be used to enhance other structures and create an iconic statement for the exterior or entrance to a building. The Morongo Casino in Cabazon, Calif., for example, incorporated a porte-cochère, or covered entrance, to the casino. Featuring a geodesic grid shell design reminiscent of desert succulent foliage, it's easily visible from the nearby 10 freeway. Tension fabric wraps around portions of the shell to protect against high desert winds and providing some shade to arriving guests.
The Atrium in Irvine
Shade structures aren't merely functional. Use them to add a unique, lightweight design element that you can't always get with built construction—and at a lower cost. At the outdoor dining tables for Bistango restaurant in The Atrium building in Irvine, Calif., glass walls and reflective surfaces were causing major glare problems for patrons. A better solution: triangular, sail-inspired tension shades were attached to existing columns in the courtyard over the dining tables. These not only provide shade, but add a whimsical design element to look at, either from above or below.
The Wharf in Washington, D.C.
With tensile structures and forms, you can customize any detail for your project. This even includes light fixtures. For the mile-long stretch of restaurants, retail stores, and businesses along the Potomac River called The Wharf in Washington, D.C. 3-foot by 10-foot fabric lantern shades were wrapped around tall light poles. Creating a soft-lit look and festive atmosphere, these light poles help with wayfinding along the walkway at night.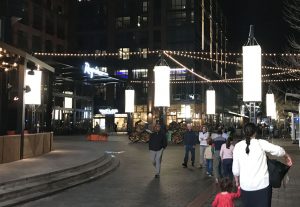 There are a variety of uses for tension structures and just as many benefits. Research all of the possibilities and learn how tensile structures can transform your next project.
In the Tension Structures Division of Eide Industries, we specialize in the design, engineering, manufacturing, and installation of structurally complex and creatively challenging commercial, government, and prototype design projects. We provide expertise and support for architects, landscape designers, general contractors, and property owners to develop their custom tensile membrane project ideas and construct iconic structures.
Explore the options for your next project. Contact one of our experts today by calling 800-422-6827.