Tension membrane structures are generally thought of as permanent or semi-permanent installations that are celebrated for their durability and longevity.  However, "permanent" isn't always an asset when you're dealing with mixed-use spaces.  When your project requires flexibility but you're drawn to the versatility and dependability of fabric architecture, then removable tension structures are the answer.
Experience All-Season Flexibility with Removable Tension Structures
It happens all the time – one location has very different uses depending on the season.  For example, a stage area may need shade for the summer concert series, rain protection during the fall and spring, and open skies to accommodate a 30-foot tree during the winter.  With removable tension structures, the frame and fabric can be broken down and stored, so you can enjoy the best of both worlds and maximize the value of your venue regardless of the season.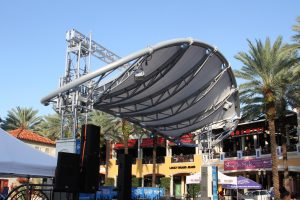 At The CityPlace in West Palm Beach, Florida, the venue's owners were faced with the exact challenge discussed above – requiring protection over the stage for much of the year but also needing to accommodate the property's famous holiday tree during the busy shopping season.  Using a series of truss segments that are butt-and-bolted together, the structure can be disassembled and packed away with the fabric still connected to the frame components.  By using aluminum instead of steel for the frame, the weight of the structure was cut nearly in half – without sacrificing safety or durability.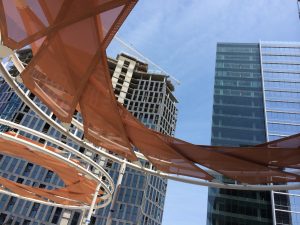 Similarly, Tysons Corner Center in Virginia needed a solution that allowed them to transform their shaded seating area into their signature ice-skating rink during the winter months.  Three aperture-styled removable tension structures were designed, employing lightweight aluminum frames in segmented pieces that weigh less than 238 pounds each.  Using corner membrane plates and turnbuckle attachments to the frame, a simple system was created in order to attach and dismantle the colorful PVC mesh panels.  Now, each removable tension structure can be completely disassembled in preparation for the winter season and loaded onto a custom trailer rack for easy storage.

Are Movable Tension Structures the Answer for Your Next Project?
In the Tension Structures Division of Eide Industries, we specialize in design, engineering, manufacturing, and installation of structurally complex and creatively challenging commercial, government, and prototype design projects.  We provide expertise and support for architects, landscape designers, general contractors, and property owners to develop their custom tensile membrane project ideas and construct iconic structures.
Explore the options for your next project.  Contact one of our experts today by calling 800-422-6827.