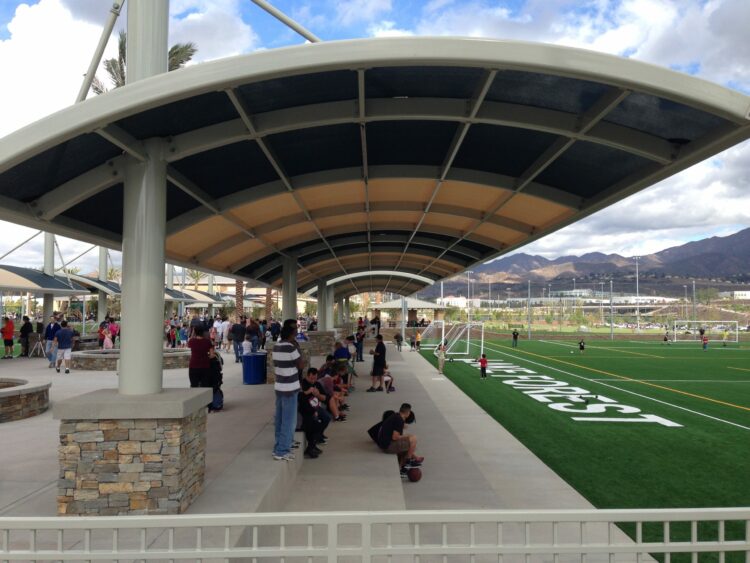 The team here at Eide Industries loves sporting events. After all, we've put together projects for our fair share of open-air stadiums and sports parks. Outdoor sporting events often lead to the fondest family memories. From days at the ball game with the kids, college football rivalries and more, it doesn't get much more American than this. 
And while most people don't think too far past their favorite team and what they're going to buy at concessions, the truth is that open-air stadiums can often pose risks to the community's health if not managed properly. The same atmosphere that provides fresh air and natural sunlight can also lead to major issues like heat stroke and more. 
But all hope is not lost – shade structures can protect your stadium guests without affecting the big game's aesthetic. 
Continue reading below to learn more:
Common Open-Air Stadium Health Concerns 
There are a number of health concerns that emerge when large crowds of people gather at open-air stadiums. 
Heat Stroke
As mentioned above, heat stroke is a major health concern when it comes to open-air stadium attendance. As is often the case, a crowd can easily get distracted with watching the game, and not monitor hydration levels. Pair that with direct sun exposure, and you've got a recipe for disaster. In fact, one study showed that heatstroke can begin occurring at temperatures as mild as 90°F. That same study looked at 239 locations in the United States, and found that 198 of those cities have experienced an increase in the annual average number of days with heat index temperatures of 90°F or higher over the last four decades.
Skin Cancer
Another major concern when it comes to prolonged sun exposure is the development of skin cancer. Every time your fans and attendees get a sunburn at one of your events, they become that much more susceptible to skin cancer. UV light has been shown to be a leading cause of this, and since they are at their strongest between 10 am and 4 pm, this danger coincides perfectly with peak game times. 
How Shade Structures Can Help
Our shade structures provide your guests with the relief and protection they need to enjoy sporting events without having to worry about the effects of the sun on their health. Quick to install, and economical, they make the perfect alternative to building a roof addition to your stadium. 
Tensile membrane structures help architects and owners enhance their athletic and park complexes by offering reduced construction costs with minimal maintenance compared to traditional building materials. Pair that with their visually appealing aesthetic and excellent durability, and you've got the perfect solution for your stadium's needs.
Get Your Tension Structure Initiative Started
In the Tension Structures Division of Eide Industries, we specialize in the design, engineering, manufacturing, and installation of structurally complex and creatively challenging commercial, government, and prototype design projects. We provide expertise and support for architects, landscape designers, general contractors, and property owners to develop their custom tensile membrane project ideas and construct iconic structures. Explore the options for your next project. Contact one of our experts today by calling 800-422-6827.