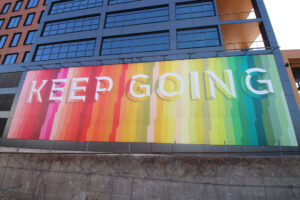 It's no secret that tension structures can reimagine your outdoor space to be a functional piece of art. From added shade to airflow, and more, installing them on your property has a variety of benefits. That's why some of our biggest customers are business owners – they see the value in our architectural innovation. 
In the spirit of that same innovation, today we're going to dive into another application for tension structures – tensile facades. These versatile options for your building's exterior are a great way to send a message, literally! 
Continue reading below to learn more:
A Marketer's Best Friend
As the heading suggests, tensile facades are a marketer's best friend.  Using our unique application process, we are able to apply digital graphics to your business' tension structures. Whether it's custom branding, an advertisement for a new product, or just something aesthetically pleasing to switch things up a bit, we've got you covered! 

The best part? You can change your graphics whenever you want. That's right, you don't have to commit to anything longer than you want to. Think about the possibilities – the sky is the limit with its marketing potential. 
Case Studies
Don't take our word for it – we proudly stand by the work we've done for our clients. In case you'd like some inspiration, here's a look at two completely different projects we've been a part of: 
Cushman & Wakefield
We assisted architects Ware Malcomb with the design and build of a tensioned facade system for real estate company Cushman & Wakefield. They wanted something that combined artistry with functionality, and our team delivered exactly that. Our design was comprised of framed supported flat panels with adjustable receiver brackets, which allowed C&W's maintenance team to easily take down the facade in order to clean the glass wall underneath. Facing out, we included a variety of geometric shapes, and of course, a design of the client's choice. 
H Hotel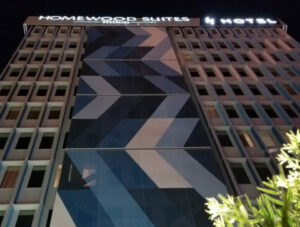 In Los Angeles, our team helped the H Hotel with an ambitious project to revamp the outside aesthetic of their newly renovated building outside of the LAX Airport. The task, which involved covering over 10,000 square feet with graphics, was an architectural marvel. Each of the tensile facade panels we installed was built to endure 110 MPH wind loads while enhancing the look of the building itself. Using a combination of existing swing stages and lifts, our installation team welded individual steel studs, lighting frames, and more to attach the meshed facade fabric on all three sides of the thirteen-story hotel.
Get Your Tension Structure Initiative Started
In the Tension Structures Division of Eide Industries, we specialize in the design,
engineering, manufacturing, and installation of structurally complex and creatively
challenging commercial, government, and prototype design projects. We provide expertise
and support for architects, landscape designers, general contractors, and property owners
to develop their custom tensile membrane project ideas and construct iconic structures.
Explore the options for your next project. Contact one of our experts today by calling 800-
422-6827.