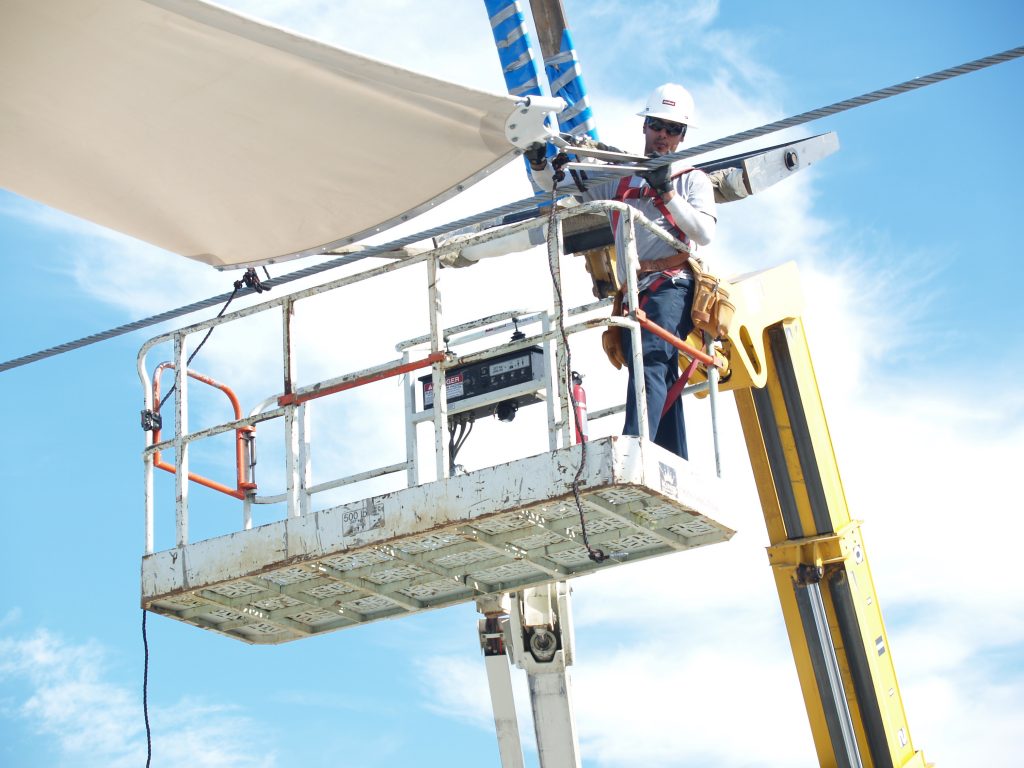 When designing and building tension fabric structures, safety is a primary concern.  These tension membrane structures are generally permanent or semi-permanent, and therefore must be designed and engineered to withstand weather, daily use, and time with minimal maintenance.
At Tension Structures, every one of our tensile fabric structures complies with all safety regulations in relation to building codes, industry standards, and respective design load criteria (for snow loads, live loads, dead loads, wind speed, and seismic loads).  Going a step further, we ensure the safety of everyone who interacts with the structure by designing it in such a way that no safety issues arise in the highly unlikely event that a part of the fabric or membrane gets damaged or detached typically from flying debris or an extreme weather event.  Our tension membrane structures do not rely on the membrane for structural stability.
Codes and Standards for Tension Fabric Structures
Whether it's in the design and engineering or the manufacturing and installation, we comply with (and often exceed) the standards as outlined by the most valued industry trade associations in the country.  This includes, but is not limited to:
American Institute of Steel Construction (AISC)
Specifications for the Design, Fabrication, and Erection of Structural Steel for Buildings.
Code of Standard Practice for Steel Buildings and Bridges.
Specification for Structural Steel Buildings – Allowable Stress Design and Plastic Design.
Specification for Allowable Stress Design of Single-angle Members.
Seismic Provisions for Structural Steel Buildings.
American Society of Civil Engineers (ASCE)
ASCE 19: Structural Applications of Steel Cables for Buildings.
American Society of Testing and Materials (ASTM)
ASTM A586: Standard Specifications for Zinc-Coated Steel Structural Strand.
ASTM A603: Standard Specifications for Zinc-Coated Steel Structural Wire Rope.
ASTM D4851-88: Standard Test Methods for Coated and Laminated Fabrics for Architectural Use.
ASTM E84: Standard Test Method for Surface Burning Characteristics of Building Materials.
ASTM E108: Standard Test Methods for Fire Test and Roof Coverings. TENSIONED FABRIC STRUCTURES 13 31 23 (13120) 3
ASTM E136: Standard Test Method for Behavior of Materials in a Vertical Tube Furnace at 750 degrees C.
ASTM C423: Standard Test Method for Sound Absorption and Sound Absorption Coefficients by the Reverberation Room Method.
ASTM E424: Standard Test Method for Solar Energy Transmittance and Reflectance of Sheet Materials.
American Welding Society (AWS)
AWS D1.1: Structural Welding Code.
AWS 2.4: Symbols for Welding and Nondestructive Testing.
Specifications for Aluminum Structures.
National Fire Protection Association (NFPA)
NFPA 701: Standard Methods of Fire Tests for Flame Propagation of Textiles and Films.
Steel Structures Painting Council / The Society for Protective Coatings (SSPC).
Steel Structures Painting Manual, Volumes 1 and 2.
Our goal is simple: to manufacture customized tension fabric products with uncompromising quality and top-rated engineered design-build details.  We believe that meeting and exceeding the regulations established by these prestigious organizations supports us in that goal and gives our customers peace of mind in knowing their architectural fabric structure is made with their safety in mind.
Are Tension Fabric Structures Right for Your Project?
In the Tension Structures Division of Eide Industries, we specialize in design, engineering, manufacturing, and installation of structurally complex and creatively challenging commercial, government, and prototype design projects.  We provide expertise and support for architects, landscape designers, general contractors, and property owners to develop their custom tensile membrane project ideas and construct iconic structures.
Explore the options for your next project.  Contact one of our experts today by calling 800-422-6827.