As the most versatile trend in modern architecture, tensioned membrane structures come in an array of shapes and sizes to suit the needs of the individual project and performance specifications.  These structures are semi-permanent to permanent installations that are designed to last, and therefore each structure must be engineered for its intended use and the weather conditions of the area. There are many custom shapes possible with tensioned membrane structures, but most designs begin with one of these general styles.
Conical Tension Structure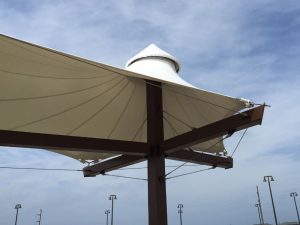 Highly effective for covering large areas, a conical tension structure is easily identified by its tent-like shape.  However, it's important to understand that there are an extensive number of differences between a tension structure and a temporary tent.  Conical designs can feature either single or multiple masts. The masts can go to the ground or can utilize a 'flying' mast where cables are used in tension supporting the mast in the air to allow for an unobstructed space below. For both design options, PTFE or PVC membrane is tensioned between a ring at the pinnacle and the lower perimeter support columns.  Cones are especially effective in areas that need to comply with high rain or snow load regulations.
Hypar or Anticlastic Structure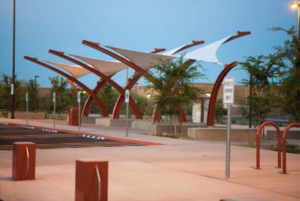 As one of the most common of all tensioned membrane structures due to its aesthetically pleasing look, hypar (hyperbolic paraboloid) shapes are notable for their excellence with shape retention and water runoff. These structures rely on two opposing curvatures, also known as anticlastic, for their stability, and often resemble the shape of a saddle featuring two high points and two low points.  This type of structure is ideal for shade over seating areas or high traffic walkways.
Parallel Arch or Barrel Vault Structure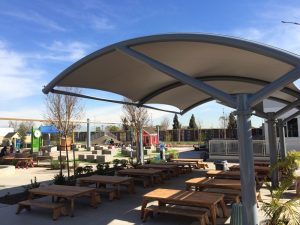 These symmetrical curved parallel arch designs form an incredibly functional tensioned membrane canopy that can span long distances such as a sports arena or smaller areas such as an entryway.  Also known as a barrel vault design, these parallel arch structures come with a wide variety of support systems from traditional arch designs to frame supported or cantilever options. Depending on the spans, a barrel vault system can be a very cost-effective way to incorporate tensile membrane on a project due to the repetitive nature of the design and efficiencies of materials.
Cable Net & Membrane Structure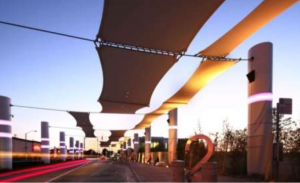 For long-span tensile membrane roofing applications typically found in stadiums or large spaces, 3D cable net or cable grid structures are an efficient solution for lightweight tensile architecture. Sometimes traditional methods of spanning a long distance with a frame component or a truss system is not feasible or it's cost prohibitive. Using pre-tensioned structural cables where the cables are carrying the primary load of a structure, these types of structures are an effective way to help support and reinforce the PTFE or PVC membrane all while achieving a dramatic and uniquely signature design.
Like all the design options noted above, positive water drainage is important to consider when using a solid membrane material to avoid any ponding issues. This is all accomplished in the shapes and slopes of the fabric in each design.
 Are Tensioned Membrane Structures Right for Your Project?
In the Tension Structures Division of Eide Industries, we specialize in design, engineering, manufacturing, and installation of structurally complex and creatively challenging commercial, government, and prototype design projects.  We provide expertise and support for architects, landscape designers, general contractors, and property owners to develop their custom tensile membrane project ideas and construct iconic structures.
Explore the options for your next project.  Contact one of our experts today by calling 800-422-6827.