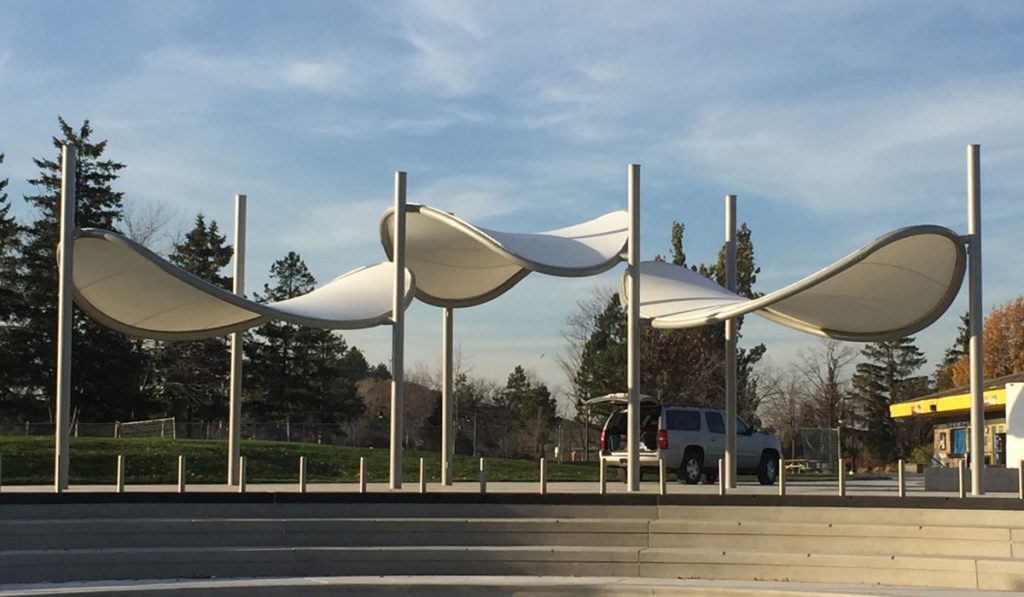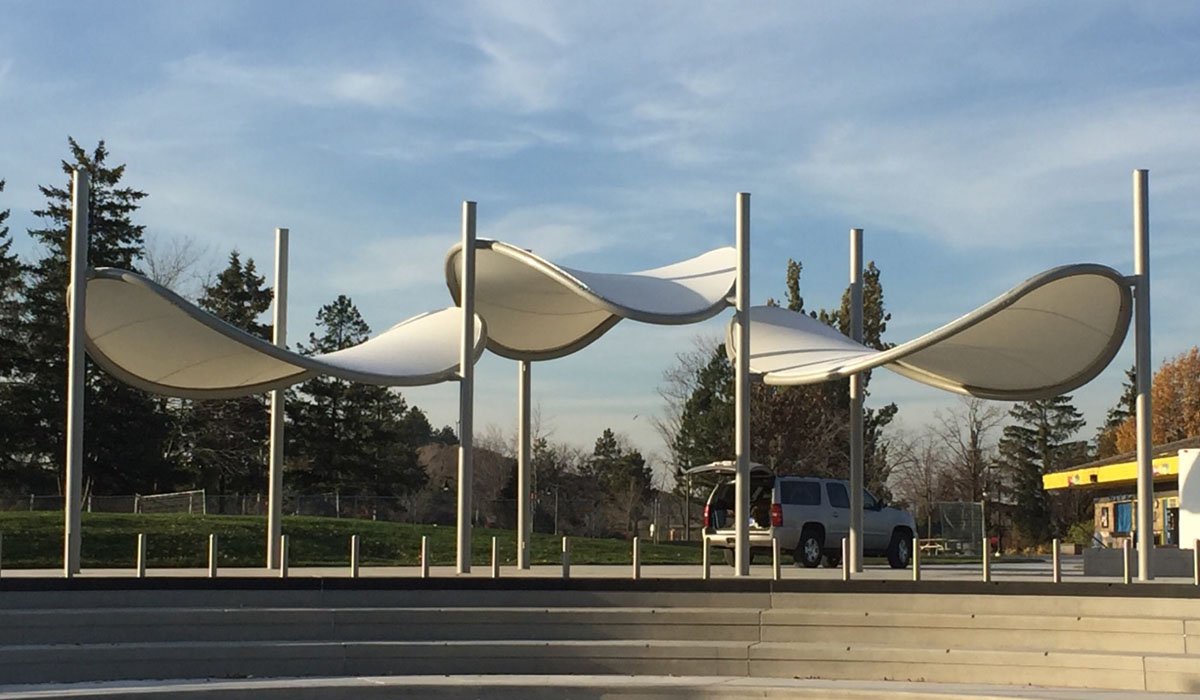 A tension fabric structure (a.k.a. tension membrane structure or tensile structure) is an innovative anticlastic form of construction characterized by tensioned fabric or flexible membrane material that's supported by cables, structural steel members, and foundations.  This tensioned fabric system creates permanent or temporary canopy structures that are ideal for a wide range of purposes, including facilities for public assembly, temporary event structures, modular industrial construction, and landscape artwork.
Designed by a design/build approach, tension structures utilize a variety of architectural fabric membranes, a combination of catenary, ridge or valley, or radial cables, clamping systems, and structural steel support members to create proportionally lightweight structures capable of spanning great distances.  Depending on the design and loading criteria, the result is often a visually exciting and signature option for a very functional structure.
How Can a Tension Fabric Structure Be Used?
Architects, designers, and general contractors may choose to use a tension fabric structure for a variety of purposes.  To benefit the general public, tension fabric structures often provide shade and protection from the elements at parks, arenas, stadiums, shopping malls, concert venues, and transportation depots.  They have become an increasingly popular option for all of these facilities or locations because of the ability to blend dependable functionality with beautiful aesthetic appeal.
Many commercial building owners have opted for a tensioned fabric structure to help reduce the building's energy use by blocking heat-inducing UV rays with a fabric "wrap" – called a tensile facade.  Whether used on the exterior of an office building, parking garage, sports arena, or stadium, this version of a tension fabric structure provides a unique marketing opportunity by incorporating a brand message into the fabric's graphics.
A tension fabric structure can also act as a piece of functional art.  The flexibility of the fabric-based architecture support endless opportunities for varying geometric shapes, layering of design elements, and form bending. In addition, up-lighting can transform the installation with an entirely new visual effect in the evening hours.  As an art form, tensioned fabric structures may provide smaller accents to a project or they may incorporate the artistic elements throughout the property, spanning entire buildings or stretching across large expanses of open space.
Is a Tension Fabric Structure Right for Your Project?
In the Tension Structures Division of Eide Industries, we specialize in design, engineering, manufacturing, and installation of structurally complex and creatively challenging commercial, government, and prototype design projects.  We provide expertise and support for architects, landscape designers, general contractors, and property owners to develop their custom tensile membrane project ideas and construct iconic structures.
Explore the options for your next project.  Contact one of our experts today by calling 800-422-6827.