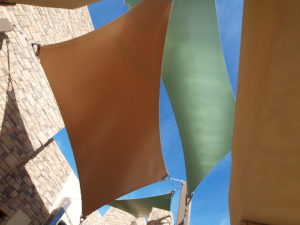 Where do you imagine when thinking about tension structures (also known as tensile membrane structures in some circles). You may envision images of public parks, amphitheaters, and other architectural works. Tensions structures are cost-effective and offer flexibility with minimal maintenance. This makes them an attractive option for these types of projects are also what make them an ideal addition to your pool deck. Whether it be for private use, or at a hotel, tension structures have the potential to take your pool experience to the next level.
Here are two ways tension structures can enhance the area around your swimming pool:
Conversation-Worthy Design Elements
The first benefit of adding a tension structure near your pool is the noteworthy design element that it adds to the property. By nature, tension structures do a great job of catching the eye. They will immediately draw the attention of anyone coming over for a swim. Tension structures provide a sense of upscale living and luxury. They are an elegant and unique solution to increasing the value of the land they're built on.
With a range of membrane choices and the ability to be built in many different shapes and sizes, owners have free reign on choosing a design that meets their preferred aesthetic. From a private home perspective, it'll be the talk of everyone in your friend group – a feature that you'll be proud to have at your home. From a commercial point of view, it lets guests feel like they're at a top-quality hotel and resort, providing a beautiful backdrop for photos and overall adding a unique beauty to the deck.
Create Much-Needed Shade
Another noteworthy benefit of adding a tension structure to your pool deck is the shade that comes with it. Have you ever walked barefoot on hot wood or concrete before? On a mid-summer day, the heat can be unbearable. For hotel guests, tension structures have the ability to provide some much-needed relief from the heat. Tension structures are lightweight, unobtrusive construction. This means that you'll be able to cover large swathes of the pool deck without having to worry about bulky designs blocking off walking paths.
Tension structures add shelter to your pool deck without obstructing the foot traffic around them. They're a fantastic solution to shield important areas of your pool without cutting corners on form and function. From a health standpoint, they're an invaluable feature. They can help owners cut back on instances of sunburn and other exposure-related issues. Tension structures are visually appealing with excellent durability. They also create an environmentally friendly way for architects and owners to enhance their property.
Get Your Tension Structure Initiative Started
In the Tension Structures Division of Eide Industries, we specialize in the design, engineering, manufacturing, and installation of structurally complex and creatively challenging commercial, government, and prototype design projects.  We provide expertise and support for architects, landscape designers, general contractors, and property owners. How can we help develop  custom tensile membrane project ideas and construct iconic structures for you?
Explore the options for your next project.  Contact one of our experts today by calling 800-422-6827.