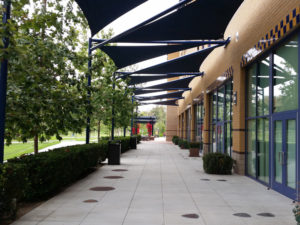 There are many reasons you may be looking for ways to increase the value of your commercial property.  Maybe you're preparing to sell, looking to attract a different type of tenant, or simply wanting to maximize your assets.  After researching traditional renovations, you may have decided that it isn't worth the headache – but have you explored the possibilities of tensioned fabric architecture?
Tensioned fabric architecture – including tensile facades and tension structures – can help to increase the value of a commercial property while also being a more cost-effective solution compared to traditional renovations.  Here are four ways tensioned fabric architecture can help to increase the value of your commercial property.
#1 Creating a Modern Façade (Out of an Aging Exterior)
As the years pass, your building's envelope (aka exterior or structural façade) will inevitably start showing its age.  Maybe it's a historic building that would benefit from being protected from the elements – or (more likely) it's a 20th century building that shows telltale signs of the period in which it was built.  Either way, a tensile façade can wrap the envelope in a contemporary second-skin.  This creates a timeless solution that covers dated design elements with clean lines and modern aesthetics – immediately raising your property value (and, quite likely, the value of those around you).
#2 Transforming Ordinary into Iconic
Many buildings were built purely for functionality – resulting in ordinary, box-like structures that could exist just about anywhere.  By transforming your property from its current "institutional" appearance to an artistic icon, you immediately increase the value of the commercial property.  This is especially true in communities with new development projects, where lackluster buildings stand out as older properties.
Tensile facades empower you to experiment with the shape of your building (for example, the façade can expand past your top floor if you're looking to blend in with your taller neighbors).  Tension structures can create functional sculptures at your entrance, along walkways, on your rooftop patio, and so on.  With fabric architecture, you can incorporate color, texture, original silhouettes, LED lighting – the possibilities are endless.
#3 Employing Passive Cooling for Truly Sustainable Efficiency
Perhaps the most celebrated benefit of tensile facades and tension structures is their significant contribution to a building's energy efficiency.  Using passive cooling techniques, fabric architecture leverages the power of shade to reduce internal temperatures by up to 10-12O F.  Additionally, by covering concrete, steel, and other traditional building materials with these innovative fabrics, your structure contributes less to the community's urban heat island effect (aka the phenomenon where cities are significantly warmer than nearby rural areas).
All of this is to say that increased energy efficiency leads directly to an increase in the value of your commercial property – as well as reduced utility bills.
#4 Optimizing the Interior Experience
Despite being exterior renovations, fabric architecture can also result in tangible benefits inside the building, too.  In addition to blocking heat-inducing UV rays, tensile facades can significantly reduce glare and increase privacy while maintaining the view and access to natural light.  Not only can fabric architecture be designed to make a more comfortable interior – it also helps to protect tenants' valuables, like artwork and electronics.
An improved interior experience (combined with an updated exterior aesthetic) supports your ability to attract tenants and raise monthly rental rates.  As the building's income increases, so does the property value.
Are You Looking to Increase the Value of a Commercial Property?  We Can Help.
In the Tension Structures Division of Eide Industries, we specialize in design, engineering, manufacturing, and installation of structurally complex and creatively challenging commercial, government, and prototype design projects.  Our expertise with tensile facade systems and tension structures supports architects, designers, general contractors, and building owners in their efforts to bring custom tensile membrane projects to life.
Explore the options for your next project by calling 800-422-6827.