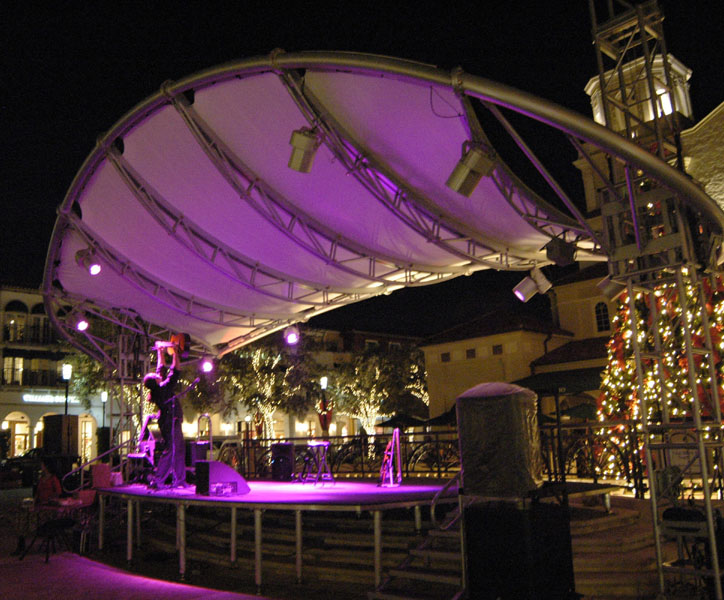 Tension structures are known for their durable, high-functioning designs. They address architectural issues in ways that other solutions can't, and often at a fraction of the cost. But today's article isn't about their functionality – it's about aesthetics. 
More specifically, how tension structures can completely transform the nighttime experience people have with your property. Illuminating a tension structure at night can add a visual appeal that's difficult to match. It turns your building into an artistic masterpiece – one that's just as beautiful to look at as it is useful. The way light bounces off of the facade creates a three-dimensional landscape that's nothing short of inspiring. 
Here's a closer look at a few projects where we helped our clients illuminate their tension structures:
Buffalo Niagara Medical Campus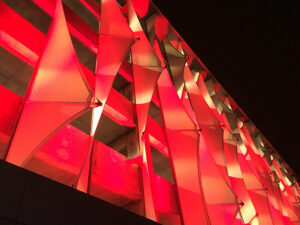 The Buffalo Niagara Medical Campus wanted to create an illuminated tension structure that inspired and brought hope to people that saw it. With its location being adjacent to the children's hospital, our client felt it was important to create an exterior to its new state-of-the-art parking structure that elevated its look to a whole new level. 
Our team installed artistic vertical fabric sails to add a touch of grace, and paired it with a colorful LED lighting system that provided a one-of-a-kind aesthetic. As a result, the art piece has aptly been named "The Dancing Kids" to honor the children who will be able to see it out of their windows each night.
Terasaki Research Institute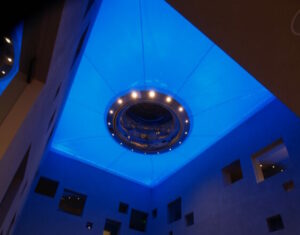 The Terasaki Research Institute wanted to pay homage to the inspiration and legacy of Dr. Terasaki, a groundbreaking researcher for whom the institute was named after. They are dedicated to the study of organ transplantation, and aim to decrease the chance for rejection in an organ recipient. 
The centerpieces of their building's design are two two tensegrity skylights complete with mirrored oculi and programmable lights. During the day, they allow for soft, warm light to enter the building. At night, they have the ability to transform the inside of the building into a premier venue for fundraising events.
The DC Wharf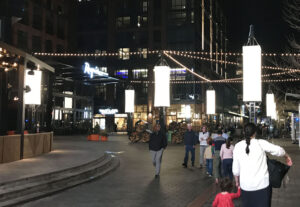 The DC Wharf wanted a unique way to bring light to its popular waterfront area. With so much foot traffic, they knew that simple lamp posts would not do it just. They sought a versatile solution that not only illuminated the whole area, but also created standalone art pieces that were discussion-worthy on their own. 
We made this vision a reality by installing 17 fabric lantern shades, each fixed to its own 24' tall pole. This created a beautifully functional feature along their mile-long stretch of property that lifted the aesthetic appeal of the whole area without feeling out of place.
Get Your Tension Structure Initiative Started
In the Tension Structures Division of Eide Industries, we specialize in the design,
engineering, manufacturing, and installation of structurally complex and creatively
challenging commercial, government, and prototype design projects. We provide expertise
and support for architects, landscape designers, general contractors, and property owners
to develop their custom tensile membrane project ideas and construct iconic structures.
Explore the options for your next project. Contact one of our experts today by calling 800-
422-6827.