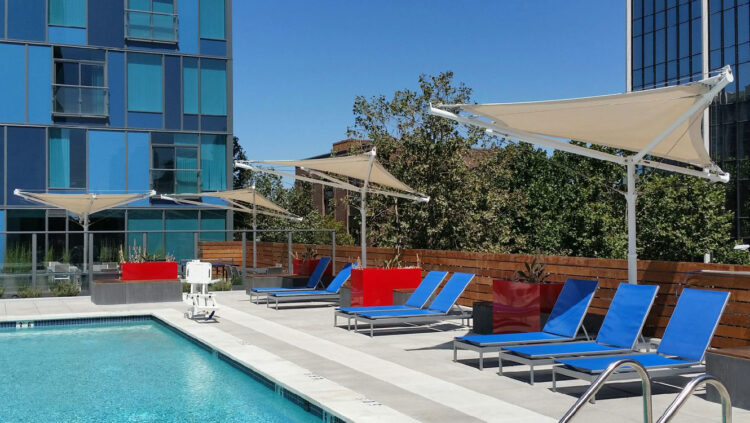 It's officially the start of a new era. The pandemic shifted how the world approached the work environment, we've seen droves of people ditch their office jobs for a more flexible work-life balance. And as a result, the hospitality industry has seen a sudden demand for "bleisure" travel options.
Here are a couple of examples of how tension structures can help your business create spaces that perfectly cater to the new bleisure economy:
What is Bleisure?
In short, bleisure stands for "business leisure." It's a term that's been getting thrown around a lot lately. Digital nomads and employees with semi-flexible work schedules have become accustomed to combining their professional lives with vacation time. Basically, it means more people working by the pool, at the cafe, and in destinations outside the typical office space. The challenge for those industries is catering to bleisure guests by building the perfect environment for a relaxed day of work.
Indoor/Outdoor Spaces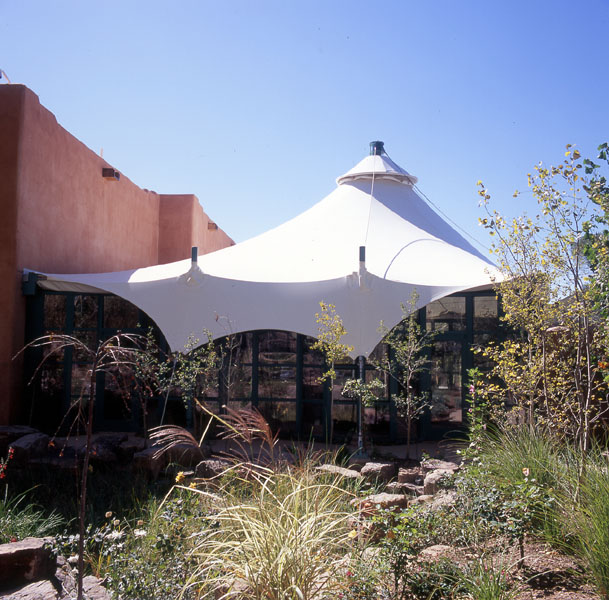 One of the main tenets of bleisure is flexibility. And what says flexibility more than an indoor/outdoor space? Tension structures can help your business create the perfect environment for your guests to lounge by the pool, enjoy the fresh air, and still be protected from the elements enough to work from their laptops.
That means no annoying glare on the screen, not having to worry about getting rained on, and having a safe space with a stable WiFi connection. What more could you ask for?  That's exactly the type of experience the El Monte Resort envisioned for its guests when they commissioned our team to build a fabric membrane roof over their pool area. Click here to learn more about that project!
Utilizing Surrounding Architecture
Another great way to maximize bleisure space is to create a beautiful work environment that utilizes the architecture around it. For example, the photo above is from a project we worked on for our client, Tysons Corner. They wanted a space that provided unobstructed sightlines of the surrounding area, but also provided bleisure guests with a mixed-use urban expansion property within their hotel plaza.
The solution was to build shade structures that made it comfortable and convenient for guests to sit and work outside. Our innovative circular design meant that they'd be able to take in all the sights around them without compromising on their productivity. Just grab a bagel, open up the laptop, and enjoy everything the city has to offer without worrying about overheating in the hot Virginia sun.
Get Your Tension Structure Initiative Started
In the Tension Structures Division of Eide Industries, we specialize in the design, engineering, manufacturing, and installation of structurally complex and creatively challenging commercial, government, and prototype design projects. We provide expertise and support for architects, landscape designers, general contractors, and property owners to develop their custom tensile membrane project ideas and construct iconic structures. Explore the options for your next project. Contact one of our experts today by calling 800-422-6827.