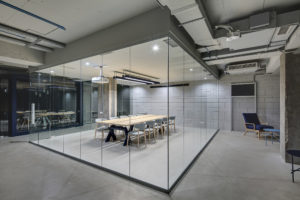 'How to create an energy efficient building' has been a predominant topic in the industry for years now, and an increasing number of property owners and developers are looking to their architects for answers to a very real question: how do we design buildings that maximize efficiency without sacrificing comfort?
This question has forced us to be creative in the development of energy efficient building solutions – such as incorporating innovative materials like TiO2 Coated PTFE into traditional tensile membrane facades or tension membrane structures.  However, in focusing on the latest design and construction options as theoretical solutions, it's easy to lose sight of the impact occupant engagement has on the actual efficiency of the structure.
Understanding Occupant Engagement
Occupant engagement refers to how tenants and visitors will actually behave in a building and, for the purposes of this article, how those behaviors impact the goal of creating an energy efficient building.  Current modeling software makes some limited assumptions, but it doesn't capture a comprehensive prediction or realistic evaluation.
Therefore, when forecasting energy efficiency goals, it becomes important to engage with current occupants (in the case of a renovation project) or potential future occupants (in the case of a new construction) to learn about their energy-related choices.
Here are some key areas to discuss:
Schedules – By knowing the normal hours in which the building is expected to be occupied and how often tenants will be present outside of those normal hours, you're able to adjust your efficiency forecast and plan accordingly.
Temperature Preferences – Beyond asking 'what temperature is comfortable to you,' identifying realistic temperature preferences means understanding details such as the demographics of everyday occupants, the workplace dress codes, and the general willingness to adapt in a way that supports lower energy usage (for example – short sleeves in the summer or sweaters in the winter).
Lighting Needs – According to the US Energy Information Administration's latest Commercial Buildings Energy Consumption Survey (CBECS), "17% of all electricity consumed in U.S. commercial buildings is for lighting, making it the largest end use of electricity besides the Other "  So, understanding the lighting needs of occupants – including how much light is needed during normal business hours, after-hours and/or during overnight hours – empowers architects to design more effective systems and processes.
Designing Energy Efficient Building Solutions
One of the most effective ways to reduce energy usage is to implement architectural shading solutions – such as tensile membrane facades.  Facades block heat-inducing UV rays while allowing natural diffused light to pass through – and you can leverage the membrane's color options to achieve goals related to energy efficiency, visual transparency, and interior comfort.
In the Tension Structures Division of Eide Industries, we specialize in design, engineering, manufacturing, and installation of structurally complex and creatively challenging commercial, government, and prototype design projects.  We provide expertise and support for architects, landscape designers, general contractors, and property owners to develop their custom tensile membrane project ideas and construct iconic structures.
Explore the options for your next project.  Contact one of our experts today by calling 800-422-6827.