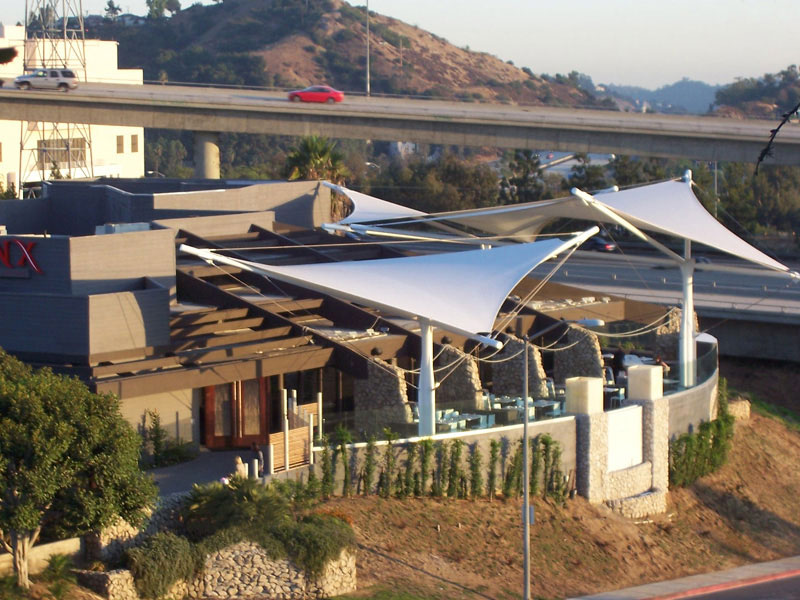 In urban settings and high-traffic areas, exhaust and pollution can become a real challenge for architects and designers who are looking to incorporate tensioned fabric structures into their designs.  Many are concerned that the membrane will require significant maintenance to retain its true color or clean appearance.  This concern has merged with environmental ones to drive new innovations in tensile fabric architecture – giving rise to one of the most advanced materials in the industry: TiO2 Coated PTFE Membrane.
What is TiO2 Coated PTFE Membrane?
In its simplest explanation, TiO2 Coated PTFE Membrane is the closest you can get to a self-cleaning material.  Titanium dioxide (TiO2) is a naturally forming variation of titanium that occurs when the metal interacts with oxygen.  When PTFE fiberglass membranes are coated with the non-toxic and flame-resistant TiO2 coating, it transforms the material into a photocatalytic membrane that functions like the leaves of a tree.  The TiO2 Coated PTFE Membrane provides shade and comfort, but also actively counteracts airborne pollutants.
Saint-Gobain, the makers of SHEERFILL® fabrics and EverClean® coatings, developed the technology to leverage the power of nature in order to cleanse even man-made environments.  When the sun's UV light strikes the photocatalytic TiO2-based surface, a natural chemical reaction occurs – causing the decomposition and oxidization of dirt, mold, and pollutants on the surface of the membrane.  Rain water washes away the all-organic remnants back to the landscape, where it belongs.
What Are the Benefits of TiO2 Coated PTFE Membrane?
Eliminate any concerns about surface dirt and pollution, while giving back to the environment.  From energy efficiency to reducing our carbon footprint, green initiatives have stepped beyond a trend and become a way of life.  TiO2 Coated PTFE Membrane was designed to be one of the longest-lasting environmentally and ecologically sound products on the market.
Save on Maintenance Costs – As long as there's rain, the self-cleaning properties of TiO2 Coated PTFE Membrane ensure the fabric will remain dazzling white forever.
Cut Out the Chemicals – Say goodbye to the harsh cleaning chemicals of yesterday.  With TiO2 Coated PTFE Membranes, you reduce your impact on the environment by embracing natural solutions for cleaning instead of damaging man-made versions.
Give Back to the Planet – The broken-down organic remnants that wash from the fabric facade act as fertilizers for your property's flowers, plants, and trees.
Whether you're an architect working with environmentally focused clients or a property owner looking for solutions to airborne pollutants, TiO2 Coated PTFE Membranes offer solutions that are good for the future of our planet and for a company's bottom line.
Is a TiO2-Coated PTFE Membrane Right for Your Project?
In the Tension Structures Division of Eide Industries, we specialize in design, engineering, manufacturing, and installation of structurally complex and creatively challenging commercial, government, and prototype design projects.  Our expertise with tensile facade systems and tension structures supports architects, designers, general contractors, and building owners in their efforts to bring custom tensile membrane projects to life.
Explore the options for your next project by calling 800-422-6827.