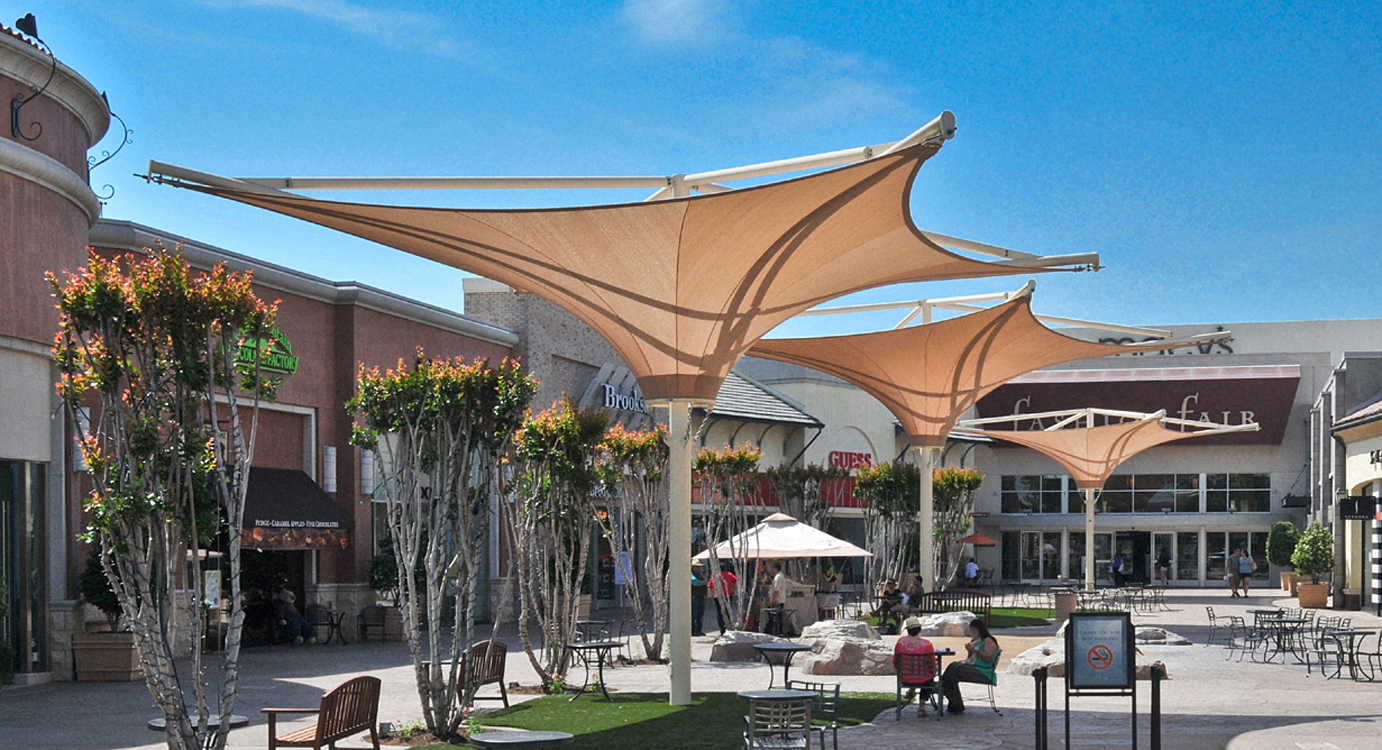 As springtime approaches, now is the time to consider innovative ways of updating your outdoor space to add comfort for your property's guests.  Incorporating tensioned membrane architectural umbrellas into your commercial landscape is just one of the ways to add both aesthetic and functional benefits.
Tensioned membrane architectural umbrellas are tensile fabric structures that use high-strength steel foundations and technologically advanced membranes to create permanent or semi-permanent installations.  They are different from a traditional patio umbrella, as these designs are stationary structures as opposed to portable assets.
The Benefits of Tensioned Membrane Architectural Umbrellas
Whether you're a spectator watching a sporting event or a commuter waiting for a bus to arrive, tension fabric structures are effective solutions for shade protection from harmful UV rays or shelter from the elements.  Architectural umbrellas are the ideal solution for creating protected space at sports arenas, parks, retail centers and transportation hubs.
Durability – Made from translucent PVC or PTFE membranes, steel membranes, and long-lasting frame finishes, tensioned membrane architectural umbrellas are incredibly durable.  The lifespan of these structures is measured in decades, not years.
Strength – With in-ground foundations, architectural umbrellas are able to withstand significant wind loads – often up to 180mph depending on the engineering specifications.  This eliminates the liability associated with traditional patio umbrellas, which need to be monitored daily and closed the moment winds exceed the portable umbrella's capacity.
Convenience – The canopy membrane is UV-resistant, anti-fungal, and easy-to-clean, which makes architectural canopies convenient to maintain.  Because they leverage the latest in fabric technology, these structures enjoy a long life with minimal maintenance procedures.
Style – With endless possibilities for a stunning design, tensioned membrane structures add great style to the property.  Create a bold iconic structure or opt for a simple and elegant version.  Either way, an architectural umbrella prestige and beauty to any property.
To see some of the innovative and beautiful umbrella designed created by the Tensioned Structures Division of Eide Industries, click these links:
Are Architectural Umbrellas Right for Your Next Project?
In the Tension Structures Division of Eide Industries, we specialize in design, engineering, manufacturing, and installation of structurally complex and creatively challenging commercial, government, and prototype design projects.  We provide expertise and support for architects, landscape designers, general contractors, and property owners to develop their custom tensile membrane project ideas and construct iconic structures.
Explore the options for your next project.  Contact one of our experts today by calling 800-422-6827.