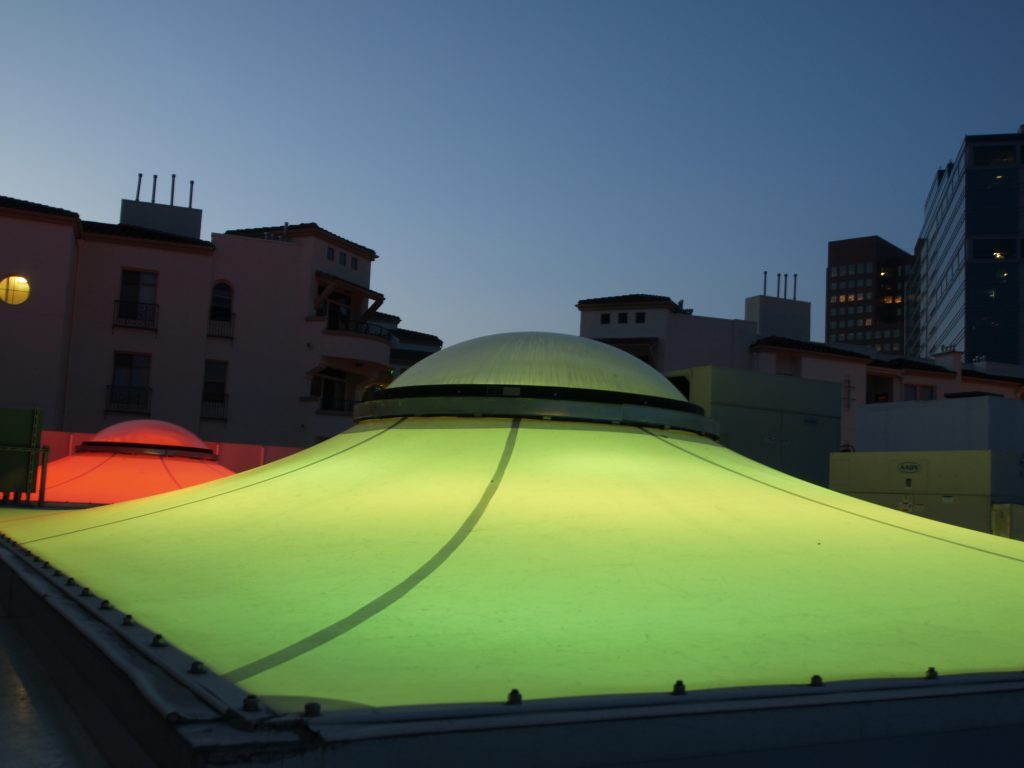 The Terasaki Research Institute is filled with optimistic scientists and clinicians who are working to solve the biggest problems related to organ transplantation.  Eide Industries was honored to help the Institute as they built a new facility that payed homage to the inspiration and legacy of Dr. Terasaki, the Institute's founder.  We manufactured and installed two PTFE membrane skylights for the lounge areas – adding natural and colorful lighting to the areas where researchers could decompress between their focused inquiry sessions.
About the Terasaki Research Institute's PTFE Membrane Skylights
Among all the unique features of the new building, the PTFE membrane skylights were designed as tensegrity tensioned membrane structures.  The mirrored oculi window and programmable lights served as a remarkable centerpiece to the lounge area.
Each skylight was created with a complex system of:
Suspension cables
Stay cables
Perimeter frame
Center frame
SHEERFILL® V as the waterproof top membrane
SHEERFILL Fabrasorb® IA as the non-combustible bottom layer
Plexiglass skylight dome
A series of RGB programmable lights
Oculus with a mirror finish
The two layers of Teflon® coated fiberglass fabric were chosen to produce an overall light transmission of 5%.  As the top layer, SHEERFILL® V provided unsurpassed fire safety, low maintenance, and high light transmission.  As the bottom layer, SHEERFILL Fabrasorb® IA added its key characteristics of noise reduction, non-combustibility, and higher light transmission than similar products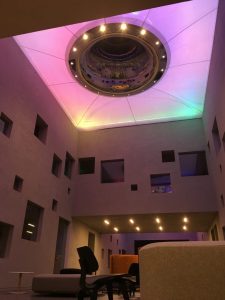 During the day, the PTFE membrane skylights offer a soft, warm light that supports the project vision for creating a relaxing atmosphere.  However, the space also needed to be dynamic – illustrating the Institute's innovative nature during the entertainment and fundraising events that would also take place in the space.  The design for a series of RGB programmable lights took advantage of the lower membrane's 29% light transmission to create a magnificent display in the evening hours.  The colorful light system evenly disperses throughout the entire membrane, giving the whole room a bold transformation.
Additional Project Information:
Manufacturer: Tension Structures, a division of Eide Industries, Inc.
Contractor: Taslimi Construction Company, Inc.
Designer/Architect: Atelier Hitoshi Abe (AHA)
Architects of Record: House & Robertson Architects, Inc.
Engineers: Nous Engineering
View a Time-Lapse Video of the Skylights' Installation
Are PTFE Membrane Skylights Right for Your Next Project?
In the Tension Structures Division of Eide Industries, we specialize in design, engineering, manufacturing, and installation of structurally complex and creatively challenging commercial, government, and prototype design projects.  We provide expertise and support for architects, landscape designers, general contractors, and property owners to develop their custom tensile membrane project ideas and construct iconic structures.
Explore the options for your next project.  Contact one of our experts today by calling 800-422-6827.