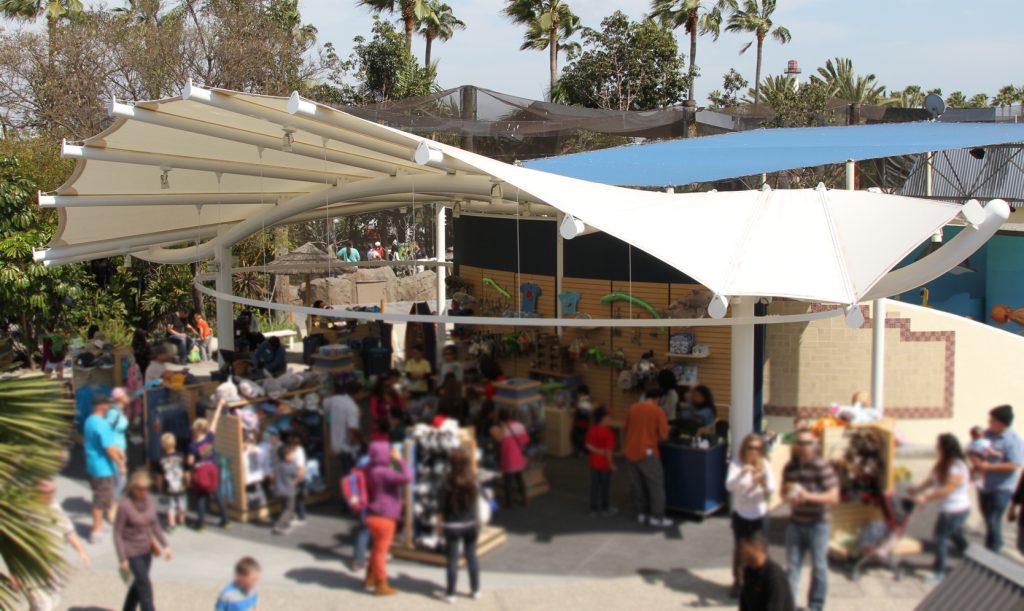 The best entertainment venues are the ones that not only address the needs of visiting entertainers, but also those of the attendees.  For the safety and comfort of guests, shade structures are an important element of an entertainment venue's design.  A tensioned shade structure (a.k.a. tension fabric structure or tensile fabric structure) offers cost-effective yet durable alternative to traditional building options.
For Community Spaces
For smaller-scale venues, tension fabric structures can be placed strategically throughout the property to offer shade for the picnic areas, the stage area, or amphitheater seating.  Adding both sun protection and charm to the venue, these structures often look like pieces of art, adding both aesthetic and functional benefits to the space.  Additionally, tensioned shade structures are incredibly durable but much more cost-effective than building a traditional structure, which is ideal when working with tight budgets.
For Event Spaces
For venues that host events throughout the year, it becomes increasingly important to find a perfect balance between offering flexible and functional space for incoming event designers and consistent consideration for event guests' needs.  Tensioned shade structures are able to provide protection from the elements, while maintaining the open, airy feel of an outdoor event site.  These tensioned shade structures are different than event tents, which are designed to be temporary, single-use.  Instead, these tension structures are permanent or semi-permanent solutions that add a sense of high-quality class to a venue.
For Stadiums and Arenas
For stadiums and arenas, tension structures can address the challenge of providing shade and weather protection over a large distance.  In some cases, this may mean using a tension structure to create a free-standing, enclosed building, and in other cases, it may look more like large expanses of canopies.  Regardless of the necessary design, tensioned shade structures are versatile and long-lasting, and they present venue owners and operators with a valuable option to traditional construction projects, which can be incredibly costly and time-consuming to complete.
Are Tensioned Shade Structures Right for Your Entertainment Venue?
In the Tension Structures Division of Eide Industries, we specialize in design, engineering, manufacturing, and installation of structurally complex and creatively challenging commercial, government, and prototype design projects.  We provide expertise and support for architects, landscape designers, general contractors, and property owners to develop their custom tensile membrane project ideas and construct iconic structures.
Explore the options for your next project.  Contact one of our experts today by calling 800-422-6827.