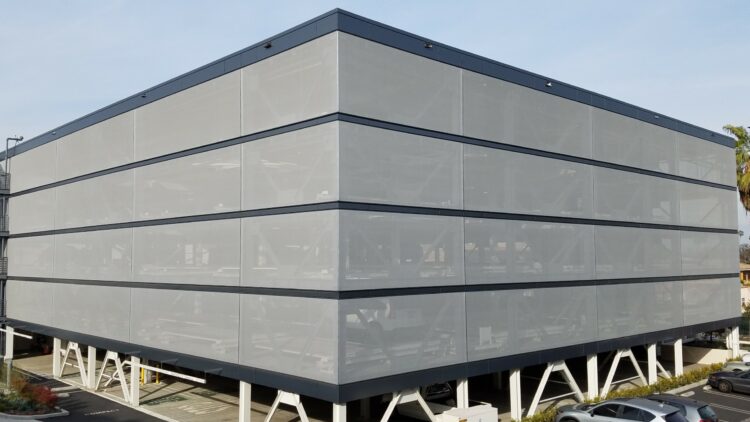 Parking garages are often an overlooked part of your larger commercial building. Obviously, the main show is usually next door – whether it's a stadium, shopping mall, or hotel. In our opinion, building owners tend to overlook all of the untapped potential that's being outshined by the main event. But it doesn't have to be that way. Tension structures can take a parking garage and transform it into so much more.
Here are two reasons tension structures are right for your parking garage:
They Can Cut Down On Energy Costs
The top of a parking garage has valuable real estate. Normally, the top floor is reserved for more parking spaces. However, by using tension structures, building managers are able to add an extra canopy up top that's perfect for placing solar panels. Not only that – but tension structures make an ideal pairing for these solar panels, as they can actually optimize the amount of UV rays that hit a solar cell. In turn, the additional electricity generated by these panels will help cut down on the energy costs for your property.
They Can Update Your Exterior
Let's face it – parking garages stick out like a sore thumb. They're built in the same mold time and time again, and are more of an eyesore than they are an architectural marvel. Tension structures change all of that via the use of tensile facades. With tensile facades, you can turn all of that free wall space into valuable advertising inventory. Everything from building branding to sponsorship opportunities and more can be accomplished with this unique update to your parking garage exterior. Just ask our satisfied customers.
Get Your Tension Structure Initiative Started
In the Tension Structures Division of Eide Industries, we specialize in the design, engineering, manufacturing, and installation of structurally complex and creatively challenging commercial, government, and prototype design projects. We provide expertise and support for architects, landscape designers, general contractors, and property owners to develop their custom tensile membrane project ideas and construct iconic structures. Explore the options for your next project. Contact one of our experts today by calling 800-422-6827.