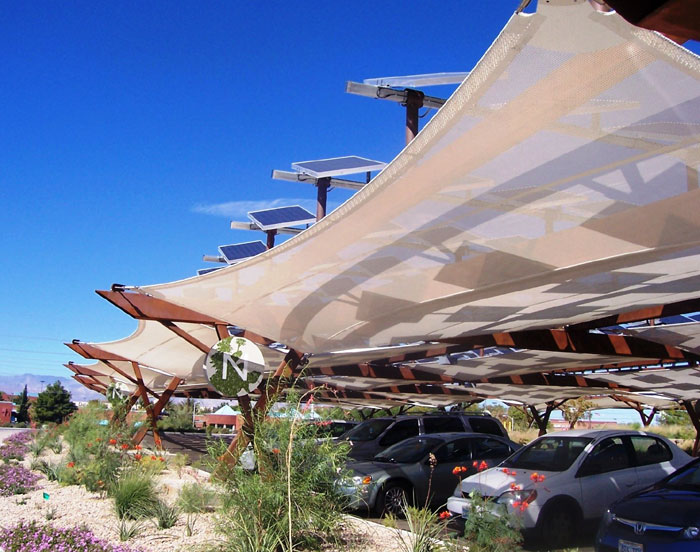 To address the growing demand for improved energy performance in buildings across the globe, the fabric architecture industry has continued to push the limits with innovations in tensioned membrane structure materials, designs, and applications.
By embracing a "big picture" mentality and an invaluable cross-pollination of ideas from a wide range of specialties, our industry continues to develop more versatile options and dynamic solutions – such as using a tensioned membrane structure to optimize solar panels.
The Partnership Between a Tensioned Membrane Structure & Solar Panels
"Solar" has been a promising energy alternative for decades, and photovoltaic (PV) solar panels are becoming increasingly common in commercial and residential settings.  To understand how a tensioned membrane structure can optimize the energy created by your solar panels, it's important to first understand the basic concepts of each technology.
Solar Energy – In its simplest explanation, solar energy works by capturing the sun's energy (photons) and transforming it into electricity via solar cells.  Multiple solar cells are combined to make up a solar panel, and multiple solar panels can be connected to create a solar array.
Tensioned Structures – A tensioned membrane structure is a type of construction that's characterized by the tensioning of otherwise flexible membrane materials, such as PVC Membranes or PTFE-Coated Fiberglass.  While there are many benefits to using fabric architecture, one of the most notable is its ability to reduce solar heat gain (aka the natural warming effect that occurs when the sun shines through a window) by reflecting the sun's UV rays.
Ultimately, there is a partnership between solar energy and tension structures because of these complementary realities:
We can create more electricity by optimizing the amount of UV rays that hit a solar cell.
The membranes used in fabric architecture are highly effective at reflecting and potentially directing UV rays.
The Partnership in Action: The Powerlight Springs Preserve Project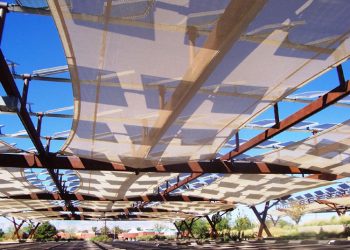 When designing the PV solar array at the Powerlight Springs Reserve in Las Vegas, careful consideration was given to the panels' orientation, placement, and supporting elements.  To maximize the output, bifacial panels were incorporated – which are photovoltaically active on the bottom as well as the top – and highly reflective tensioned membrane panels were designed and installed under the solar array (to make use of heat island effect).  Eide Industries manufactured and supervised the installation of the 39 membrane panels and a series of support structures.
The solar array was located above the property's parking lot, so the tensioned membrane structure had the dual-purpose of resonating solar energy and providing shade protection for the 39,000 square foot coverage area.  Serge Ferrari Précontraint 492 PVC Mesh Fabric in standard white was chosen for its combination of reflective properties and cost-effectiveness.  To learn more about the Powerlight Springs Preserve project, visit our portfolio page.
Ready to Optimize Your Solar Panels with a Tensioned Membrane Structure?
In the Tension Structures Division of Eide Industries, we specialize in design, engineering, manufacturing, and installation of structurally complex and creatively challenging commercial, government, and prototype design projects.  We provide expertise and support for architects, landscape designers, general contractors, and property owners to develop their custom tensile membrane project ideas and construct iconic structures.
Explore the options for your next project.  Contact one of our experts today by calling 800-422-6827.