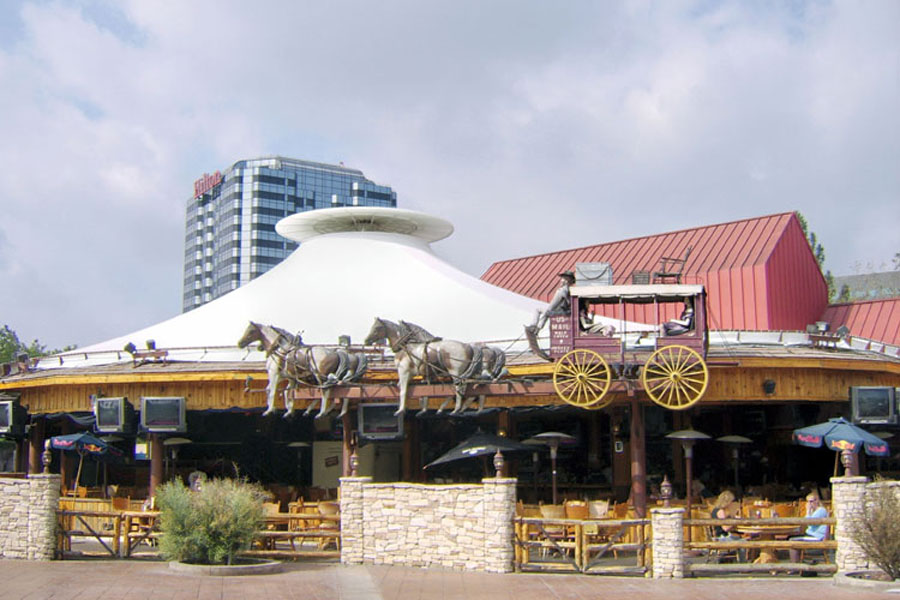 Fabric architecture, including tensioned membrane structures and retractable structures, gives architects and designers the opportunity to create spaces that are as functional as indoor spaces but as enjoyable as outdoor ones.  Depending on your project's needs and location, fabric architecture can be used to overcome a variety of challenges including rain and snow, harsh sun, and shifting temperatures.
Event Venues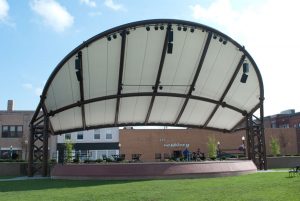 Add incredible versatility to your event venue by offering the best of both worlds: outdoor event spaces with the comfort and consistency of an indoor location.  When planning special events, weather is always a consideration.  A commercial-grade, semi-permanent or permanent roof, canopy, or freestanding enclosure supports the venue's elegant aesthetics while giving event managers control over the elements.
Whether you're looking to protect a stage area for performers and their equipment or to create an open-air space for weddings and parties, fabric architecture can be a beautiful and cost-effective option.
Retail Spaces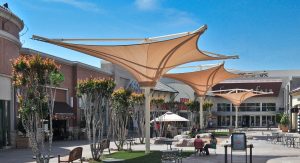 From outdoor malls to semi-permanent "pop-up" retail installations, fabric architecture takes retail spaces to the next level.  The translucent PVC or PTFE membranes allow the soft glow of sunlight in while keeping the harsh UVs and cold rain out.  In retail applications, tension structures are often used as canopies over walkways, shade cover for seating areas, or freestanding buildings for the store itself.
Regardless of what the weather is doing outside, fabric architecture helps you ensure the shoppers at your property are comfortable so they can focus on the products your retailers are selling.
Outdoor Dining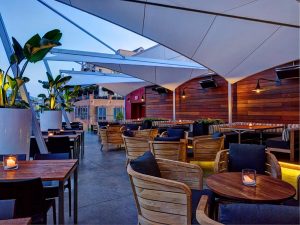 A restaurant's outdoor dining space is often its most valuable asset.  However, as all restaurant owners know, it can be incredibly frustrating to be unable to leverage its value all year round.  Fabric architecture opens a world of opportunity for restaurants to create all-weather outdoor spaces.
From commercial retractable awnings to block the sun for the lunch hour to enclosures that help maximize outdoor heating units, tensioned membrane structures are designed to add both functionality and ambiance to outdoor dining areas.
Whether you're looking to create iconic structures or purely functional ones, it's time to explore the benefits of tension structures and fabric architecture.
Explore the Fabric Architecture Design Opportunities
In the Tension Structures Division of Eide Industries, we specialize in design, engineering, manufacturing, and installation of structurally complex and creatively challenging commercial, government, and prototype design projects.  We provide expertise and support for architects, landscape designers, general contractors, and property owners to develop their custom tensile membrane project ideas and construct iconic structures.
Explore the options for your next project.  Contact one of our experts today by calling 800-422-6827.