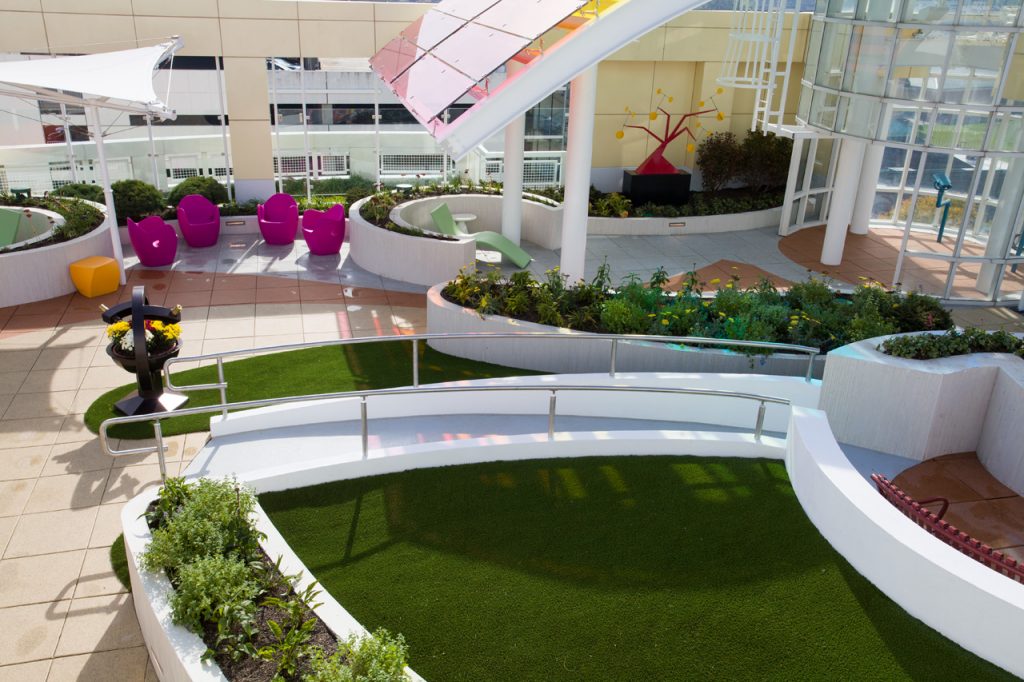 As landscape architecture trends continue to evolve with each passing year, professionals are tasked with deciphering which aspects are fleeting and which are here to stay.  Outdoor living continues to emerge as a priority for both urban and suburban communities, but comfort also remains a top concern.  Landscape architects from coast-to-coast are exploring unique ways of overcoming challenges with designs that address shifting community priorities and environmental demands.  Here of some of the most prevalent landscape architecture trends being discussed by our clients and the solutions they've uncovered with tensile membrane structures.
Experiential Designs
Commercial outdoor spaces are no longer only providing a nice view from within office buildings.  Advances in technology free employees from the confines of their desk, and many organizations are actively promoting their employees' freedom to work wherever they feel comfortable.  This means more and more commercial properties need outdoor spaces that are built for living, working, and playing.  Whether property users are working from the open-air seating area or simply enjoying down-time, they want quality outdoor experiences.
Tension fabric structures – made with either PTFE-coated fiberglass or PVC membrane – help landscape architects highlight specific areas of a property, creating focal points that invite visitors into the space.  From structures that make bold artistic statements to graceful ones that complement the natural setting, tensile membrane structures are designed to enhance the space with style.
Climate Conscious Designs
Unpredictable weather patterns have put environmental change and climate adaptation at the top of the list for landscape architecture trends.  Shifts in the weather require new enhancements to protect property users, while being able to withstand more extreme conditions.  Combining this reality with the increasing push towards outdoor living poses a unique challenge.  Many landscape architects are looking for ways to create outdoor spaces with indoor comforts to give property users year-round access, regardless of the climate.
Whether looking to provide weather protection for a public transportation waiting area, an entryway to an office building, or a special event venue, tension fabric structures are designed and engineered to withstand the required wind and snow loads of the project's location.
Water Management & Conservation Designs
While using native plants to minimize water consumption isn't among the newer landscape architecture trends, the focus on conservation continues to grow.  Landscape architects are continually seeking new ways to best use the water that's available, including capturing rainwater and directing it in productive ways.
Water control options for tension fabric structure designs not only protect property users from the rain, but they can also gather valuable rainwater to be used to support the landscape architect's conservation plans.
Can Tension Fabric Structures Help You Address Today's Landscape Architecture Trends?
In the Tension Structures Division of Eide Industries, we specialize in design, engineering, manufacturing, and installation of structurally complex and creatively challenging commercial, government, and prototype design projects.  We provide expertise and support for architects, landscape designers, general contractors, and property owners to develop their custom tensile membrane project ideas and construct iconic structures.
Explore the options for your next project.  Contact one of our experts today by calling 800-422-6827.