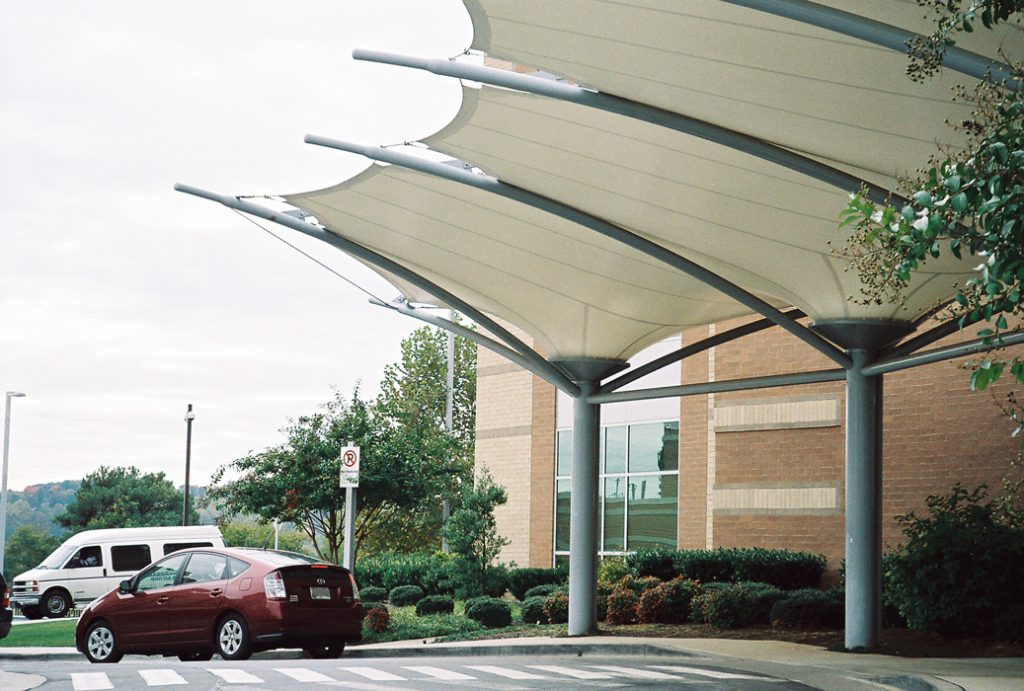 One of the many functions for tensile membrane structures is to offer protection from the rain and other inclement weather.  When designed properly, tension structures can create the perfect indoor/outdoor spaces that keep guests comfortable and maximize the value of your property.
Just as with an umbrella, tensile membrane structures can easily block the rain for those who are weathering the storm underneath, but architects and designers are often concerned about water streaming from the perimeter of the structure.  Rain and inclement weather is a reality for most project locations, and therefore, water control is an essential aspect of your tensile membrane structure design.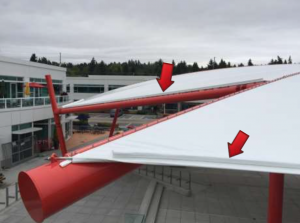 Rain Diverters – To prevent unwanted waterfalls from forming along the edges of the membrane, rain diverters can be used like gutters. Between four and six inches tall depending on the size of the structure and its membrane, rain diverters redirect the water flow to a manageable location.  Rain diverter "pockets" are constructed of the same membrane as the canopy, and they are welded directly to the main fabric to support the rain diverter material.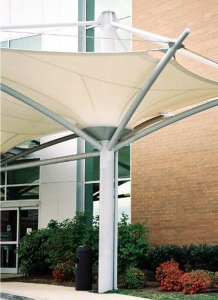 Scuppers and Drains – The rain diverters move the water to a central location, so it can be dealt with in a way that has the least impact on property users.  Most often, the water is diverted towards scupper drains and through piping that leads to a draining system or moves the water gently to the ground.
In addition to the rainwater control options that are available for tensile membrane structures, architects and designers should consider which styles and shapes are best-suited for the weather concerns of the project's location.  The engineers and designers at Tension Structures are experts at finding the ideal balance of aesthetic excellence and functional necessity.
Explore the Opportunities with Tensile Membrane Structures
In the Tension Structures Division of Eide Industries, we specialize in design, engineering, manufacturing, and installation of structurally complex and creatively challenging commercial, government, and prototype design projects.  We provide expertise and support for architects, landscape designers, general contractors, and property owners to develop their custom tensile membrane project ideas and construct iconic structures.
Explore the options for your next project.  Contact one of our experts today by calling 800-422-6827.