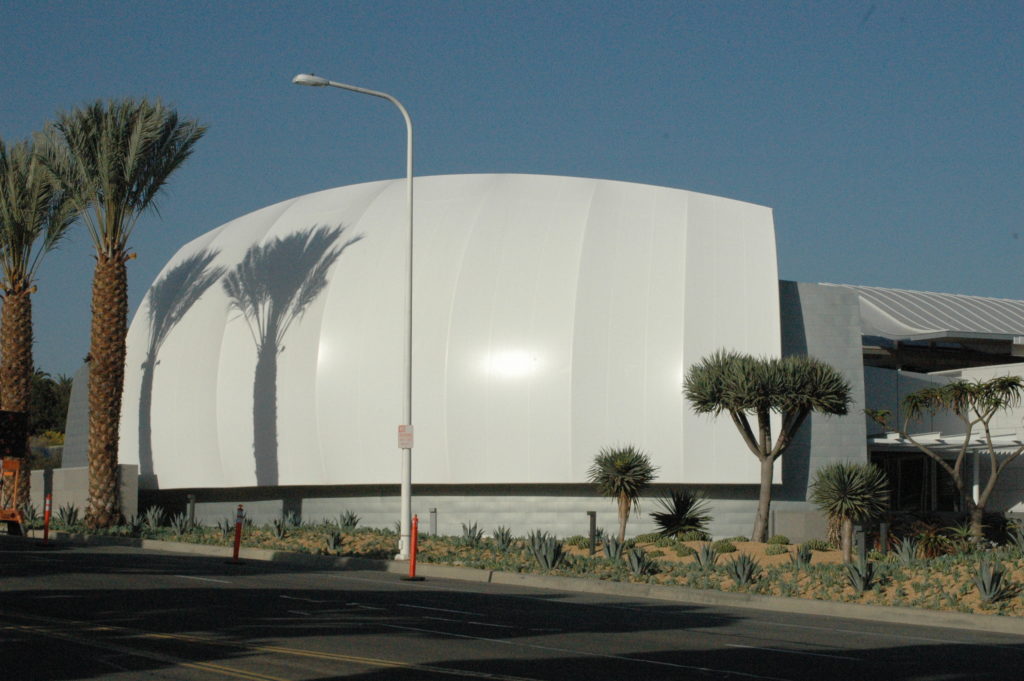 From popular PTFE Fiberglass and PVC Membranes to cutting-edge innovations like TiO2-Coated Membranes, there are a wide range of membranes to choose from when designing a tensile fabric structure.  The selection of the membrane and its color is one of the most fun stages of the design process – but it's important to remember that there's more to it than aesthetic considerations.  Both the type of membrane and its color will have a significant impact on the tensile fabric structure's performance capabilities.
Color Options & Energy Efficiency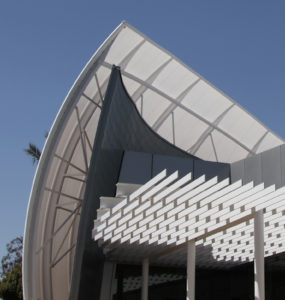 One of the many benefits of tensile fabric structures, especially tensile fabric facades, is to improve energy efficiency for buildings.  By blocking heat-inducing UV rays (a.k.a. solar heat gain), the building's air conditioning needs are substantially reduced.  Similarly, cooler climates may wish to choose membranes that offer more thermal protection and help to counteract the energy required for heating the building.
The membrane's color plays a major role with those goals.  Light colors reflect more of the sun's hot rays, while dark colors absorb more of the warming energy.  So, if your goal is to provide a cooling effect with the shade, it's best to choose a lighter membrane.
Color Options & Urban Heat Island Effect
As the global discussion on climate change continues to influence practices and processes in nearly all industries, there's an increasing interest in materials that blend environmental awareness with traditional functionality.  Tensile fabric structures answer that call in many ways – but especially by minimizing the community impact of urban heat island effect.
Urban environments – where manmade infrastructure has replaced most natural landscapes – experience significantly higher temperatures because of the way construction materials (like concrete and steel) absorb and trap heat.  Incorporating light-colored tensile fabric structures and facades into these communities can have a serious impact in reducing the temperatures of urban heat islands.
Color Options & Interior Experiences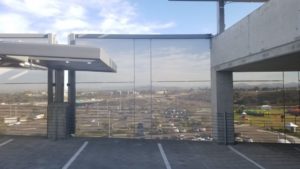 Tensile fabric structures and facades also can be used to improve the comfort and wellbeing of occupants inside a building, such as office workers or hospital patients.  Using transparent membranes, architects and designers can create structures that block glare and solar heat gain while maintaining access to natural light and protecting the view from the inside.
The color option can have a major impact on the interior experience – as well as the overall performance abilities.  For example, a black-backed membrane can provide superior one-way visual transparency and shading but would result in a darker interior.
How To Choose Tensile Fabric That's Best for Your Goals
At Tension Structures, we work with the most reputable and innovative developers of durable membranes.  We believe this is essential in order to provide our clients with the options that are ideal for each of their unique projects.  Together, we will work to explore all the color options and membrane types, so you're able to achieve your goals while maintaining your iconic vision.
In the Tension Structures Division of Eide Industries, we specialize in design, engineering, manufacturing, and installation of structurally complex and creatively challenging commercial, government, and prototype design projects.  We provide expertise and support for architects, landscape designers, general contractors, and property owners to develop their custom tensile membrane project ideas and construct iconic structures.
Explore the options for your next project.  Contact one of our experts today by calling 800-422-6827.