Tensioned membrane structures continue to evolve with each passing year, adapting to address emerging trends and being driven by new innovations.  As truly unique structures that are designed to bring your vision to life, no two tensioned membrane structures are exactly alike.  Working alongside the design and engineering teams, you'll explore the multitude of options available to you, including the various types of fabrics.  From PTFE fiberglass to PVC membranes, the range of technologically advanced fabrics provides you with options that are ideal for your needs.
PTFE Fiberglass Membrane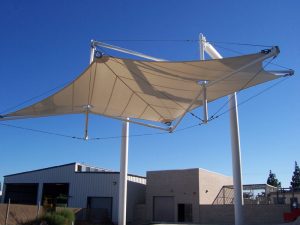 PTFE Fiberglass Membrane (aka PTFE-Coated Fiberglass or polytetrafluoroethylene) is a Teflon™-coated woven fiberglass membrane that is considered one of the most durable materials in the fabric structures industry. It is extremely strong, up to 1,000 pounds per inch. Due to low surface energy from its chemically inert coating, PTFE fiberglass membranes are capable of withstanding extreme temperatures, are easy to maintain and keep clean, and they are completely immune to UV degradation. Many choose PTFE fiberglass because of its exceptional performance with fire code compliance tests.  However, for those who require flexibility with color or need to minimize costs, PTFE fiberglass membranes pose a challenge.
Looking for the latest innovations for urban challenges such as exhaust and pollution?  Learn more about TiO2 Coated PTFE Membranes.
Looking for dynamic, durable, and cost-effective alternative to glass?  Learn more about Why ETFE Is Gaining Popularity.
PTFE-Coated Fiberglass Mesh Fabric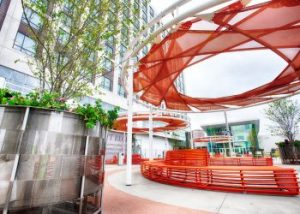 PTFE-Coated Fiberglass Mesh Fabric is often used in vertical building facades and shading applications. The fabrics' mesh construction allows for more lighting to enter the space and allows air to circulate through the fabric. Because of its noncombustible scrim, it makes a great candidate for shade structures on high-rise rooftop decks and other building structures requiring a Type II – 1 Hr roof material.  The life expectancy, durability, and minimal maintenance are similar to solid PTFE fiberglass membranes.
ePTFE with Fluoropolymer Coating
ePTFE with Fluoropolymer Coating is a highly translucent variation of PTFE membrane provided by SEFAR that promotes exceptional natural lighting.  The PTFE fabric is expanded into long strips of threads and woven into a scrim.  It is finished with a very slick fluoropolymer top coat that is highly resistant to stains or contamination.
PVC Membrane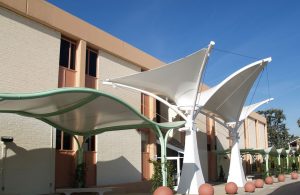 PVC Fabrics (aka polyvinyl chloride) offer a great balance of price and performance, which has made it one of the most frequently used materials in the tensioned structure industry.  For projects with less stringent fire code compliance issues, seasonal application, or a lower life span requirement, it's often the best choice.  Depending on fabric thickness required, light transmissions range from 5% to 10%. These fabrics are economical, fire retardant, printable, and recyclable. Combined with proper top-coatings, PVC fabrics have significantly improved fire behavior, resistance to UV rays, and general longevity.
High-Strength PVC Fabrics are used for projects that require higher design loads, and they are able to span longer distances compared to the lower strength version.
Light-Weight PVC Fabrics are generally used for short span tension structures or framed fabric structures.  These fabrics are available off the shelf in cut yardage, so this helps with availability and cost. There are hundreds of colors available.
PVC Membrane Mesh Fabrics are a great choice for low slope designs or tensile fabric façade systems.  The porosity of the fabric eliminates any ponding issues and the material has exceptional breathability to cool the enclosure or allows for air ventilation if used for a façade application.
Are Tensioned Membrane Structures Right for Your Next Project?
In the Tension Structures Division of Eide Industries, we specialize in design, engineering, manufacturing, and installation of structurally complex and creatively challenging commercial, government, and prototype design projects.  We provide expertise and support for architects, landscape designers, general contractors, and property owners to develop their custom tensile membrane project ideas and construct iconic structures.
Explore the options for your next project.  Contact one of our experts today by calling 800-422-6827.