From the initial concept to the final unveiling, the process for creating a tensile fabric structure (a.k.a. tension structure) requires well-established expertise at every step along the way.  This includes designers and engineers to develop the best-suited plan to meet the project goals and performance requirements, manufacturing and installation professionals to ensure the safety of end-users and top-quality products, and project managers to keep it all on track.
When working with Eide Industries, our team of experts in our Tension Structures division guide you through the four-stage process with ease.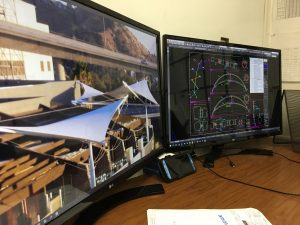 It all starts with your idea, plan, or concept.  Our designers help you channel your imagination, and we use our expertise to transform your thoughts into a visual concept that fuses beauty with functionality.  Whether we're working directly with you or with your artists, designers, or architects, we partner with your team to configure the most efficient, economical, and attractive tensile fabric structure possible.  Our 3D renderings help the team view the proposed design from every angle, so we can identify any potential issues early on and make sure you will be pleased with the end result.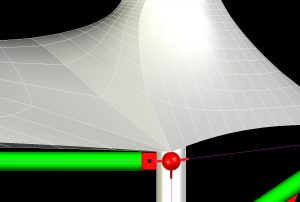 The engineering stage provides the security necessary to know that the design is efficient, feasible, and certified.  Not only will the permitting authorities require certified engineered drawings, but the analysis is also necessary for determining the optimum sizes for the steel, cables and fabric elements.  Our engineers analyze all structural aspects of the design, such as what the required design load criteria (i.e. wind, snow loads) is for the project location, using finite element analysis (FEA) software to produce final reaction loads for the concrete foundations, and developing fabric patterning of the membranes to ensure it is installed with the required pretension.  They also create the detailed shop drawings needed for manufacturing of the steel members and fabrication of such membranes as PVC or PTFE-coated fiberglass.
Creating high-quality and durable tensile fabric structures is our top priority at Eide Industries, which is why we are proud to manufacture all of our tension structures in our California-based facility.  During the manufacturing stage of the process, we handle all steel welding, aluminum welding, fabric patterning, fabric sewing, custom tailoring, and PVC or PFTE heat sealing.  Once the manufacturing of the membrane and steel members is complete, we package the materials carefully for shipping and unpacking at the job site.
Operating from a 41,000-square foot manufacturing facility with over 70 years of experience, our shop has the ability to fabricate and build for various sizes and complexities of tensile structures.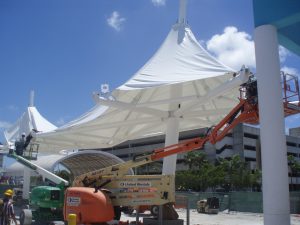 The installation phase of a tension structure is critical to the overall success of the project.  We employ an elite team that is certified to construct the most elaborate tensile fabric structures.  As a design-build specialty contractor, Eide Industries dedicates time to planning and attention to detail creating installation procedures and methodologies utilizing the necessary equipment and manpower for each custom PTFE or PVC project.  Typical equipment that may be operated to assist in tension structure installations includes cranes, construction forklifts, hydraulic jacks, booms, zoomers, and scissor lifts.
Is a Tensile Fabric Structure Right for Your Project?
In the Tension Structures Division of Eide Industries, we specialize in design, engineering, manufacturing, and installation of structurally complex and creatively challenging commercial, government, and prototype design projects.  We provide expertise and support for architects, landscape designers, general contractors, and property owners to develop their custom tensile membrane project ideas and construct iconic structures.
Explore the options for your next project.  Contact one of our experts today by calling 800-422-6827.