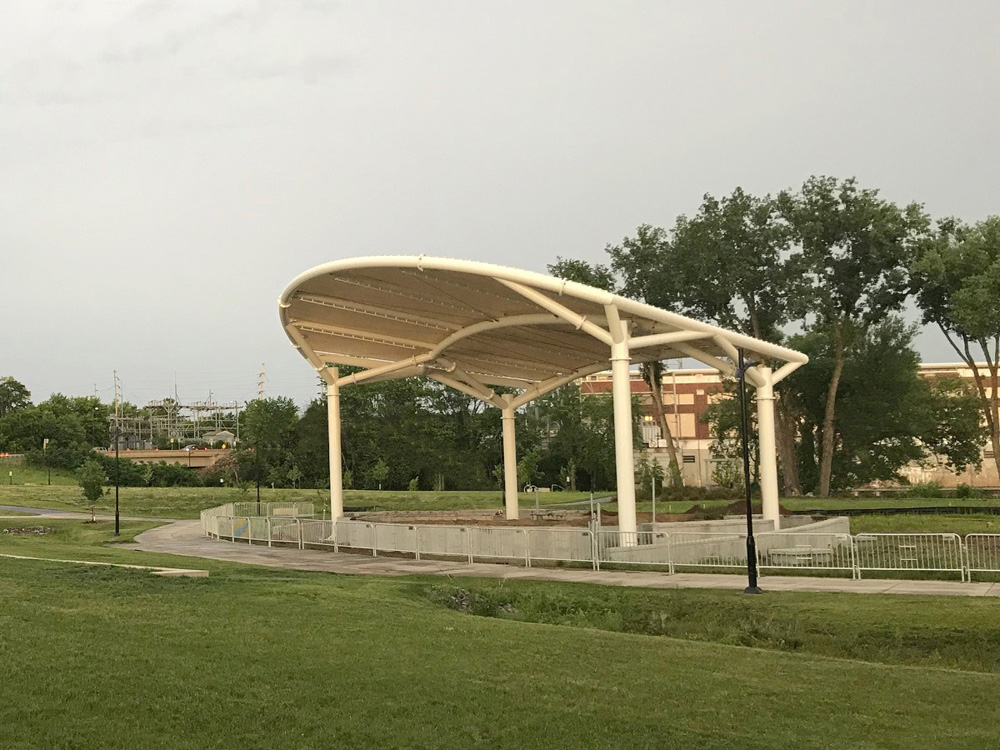 From coast to coast, an increasing number of communities – especially in urban areas – are working to transform distressed neighborhoods into places of opportunity.  This type of neighborhood revitalization is to be applauded, as its broad focus strives for more than just beautification and instead seeks to improve residents' lives by incorporating the resources and environment people need to truly thrive.
An increasing number of architects and builders are incorporating tensioned structures into neighborhood revitalization designs because this type of architecture offers the flexibility and cost-effectiveness that traditional building methods simply can't provide.
Updating Aging Buildings
While beautification may not be the primary goal, the reality is that rundown buildings (and their aesthetic) deter visitors from surrounding areas – which, in turn, hinders efforts to stimulate business growth in the neighborhood.  But full-scale renovations can often be cost-prohibitive.
Tensioned structures – more specifically, tensile membrane facades – are an innovative solution for transforming exteriors from dingy and outdated to clean and modern.  And, the impact they have on the neighborhood's aesthetic is only the beginning.  They also contribute significantly to energy efficiency, reduced utility costs, interior comfort, and increased property values – just to name a few of the benefits.
Take a Deeper Dive: The Dynamic & Cost-Effective Solution for Exterior Renovations
Creating Vibrant Downtown Areas
To increase opportunities for local residents, many neighborhood revitalization projects have a vision for establishing a vibrant downtown community (of some sort).  The goal is to create an area where businesses want to open their doors and consumers want to spend their money.
This is important for neighborhood revitalization projects because more local commerce leads to more (and better paying) jobs and increased property values – which, in turn, brings in more government funding for schools and infrastructure.
It can be challenging to strike the right balance between respecting the neighborhood's personality and adding the functional and aesthetic upgrades that are necessary – but tensioned structures can deliver the design flexibility you need.
Take a Deeper Dive: From Downtown to the Riverfront – How Tension Structures Can Bring People Together
Supporting Safe and Functional Recreational Spaces
Increasingly, our society is recognizing the important role that outdoor spaces and natural environments play on our wellbeing.  In fact, grassroots neighborhood revitalization projects are often born out of a community's initial desire to reclaim a park or playing field that's become unusable because of neglect.
Tensioned structures not only provide shady oases in neighborhood parks, but they also have an inviting effect – signaling to the surrounding community that the park is safe and ready to be enjoyed.  They contribute to a sense of place; they create a gathering space.
Take a Deeper Dive:  Create a Gathering Space – How a Tensile Roof Structure Adds to Public Park Designs
Let's Discuss How Tensioned Structures Could Support Your Neighborhood Revitalization Goals
In the Tension Structures Division of Eide Industries, we specialize in design, engineering, manufacturing, and installation of structurally complex and creatively challenging commercial, government, and prototype design projects.  We provide expertise and support for architects, landscape designers, general contractors, and property owners to develop their custom tensile membrane project ideas and construct iconic structures.
Explore the options for your next project.  Contact one of our experts today by calling 800-422-6827.