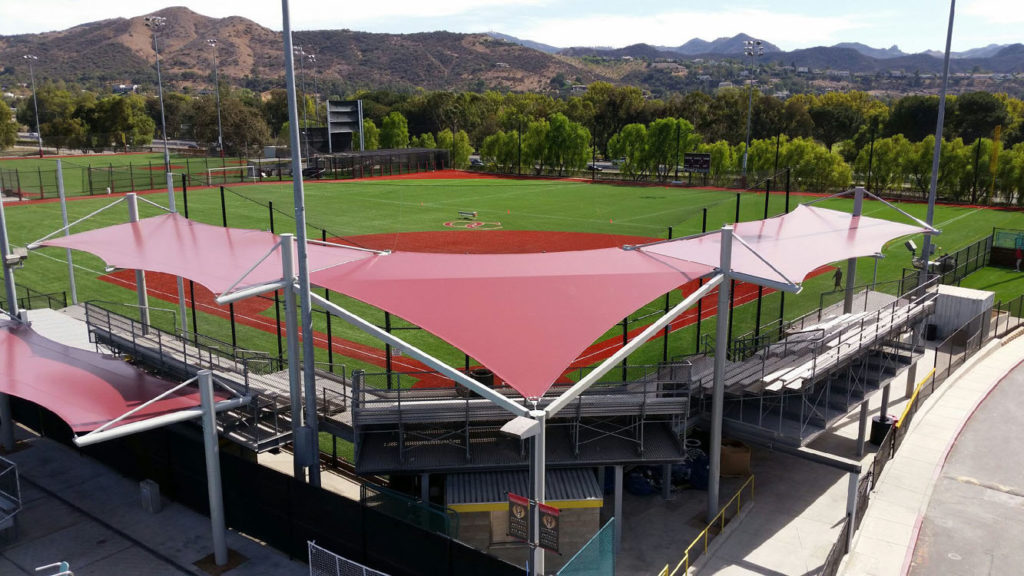 Oftentimes, as we're discussing the benefits of tensioned membrane architecture, we take for granted the greatest benefit of all: shade structures protect the health and wellness of everyone in our community.
It's estimated that one in five Americans will get skin cancer during their lifetime (according to the American Academy of Dermatology).  That's a statistic none of us want to think about, but it is an important one for architects and designers to consider while creating the next generation of public spaces.  After all, we're the professionals who are deciding whether shade structures are an integral part of the design concepts, aren't we?
Applications for Tensioned Fabric Shade Structures
It's no secret that over-exposure to UV rays contributes significantly to skin cancer, but most people don't realize that "even one blistering sunburn during childhood or adolescence can nearly double a person's chance of developing melanoma" (AAD).
Here are some often-overlooked applications for tensioned fabric shade structures:
Ultimately, there's a shade solution for every project need.  Tensioned fabric shade structures have exceptional design flexibility – from free-standing structures to shade sails and everything in-between.  And if those aren't quite right for your project, there are endless opportunities with retractable awnings, resort cabanas, and commercial canopies.
Explore Your Options for Commercial-Grade Shade Structures
In the Tension Structures Division of Eide Industries, we specialize in design, engineering, manufacturing, and installation of structurally complex and creatively challenging commercial, government, and prototype design projects.  We provide expertise and support for architects, landscape designers, general contractors, and property owners to develop their custom tensile membrane project ideas and construct iconic structures.
Explore the options for your next project.  Contact one of our experts today by calling 800-422-6827.