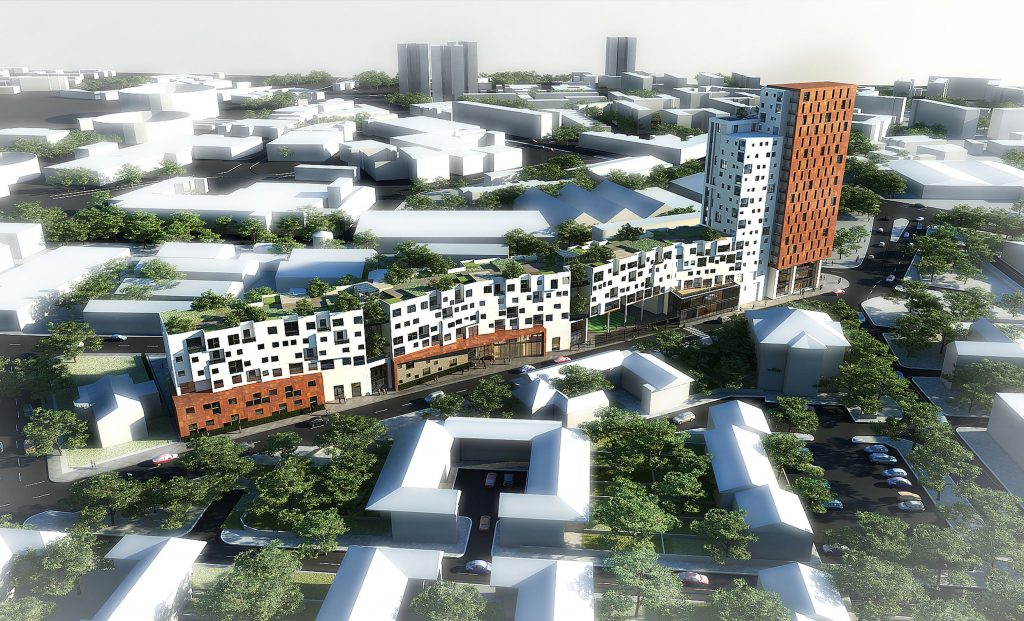 As the new year approaches, we decided to talk with some of our clients about their architectural design resolutions for 2019.  While sustainability and environmental awareness topped the list (as expected), our team found these responses particularly insightful and opted to use them as inspiration for our own resolutions for the new year.
Resolution #1 – Defend the Meaning of Open Space
Especially in urban communities, open spaces are not only essential for a balanced design but also for resident wellbeing.  And while most architects agree that open spaces are being prioritized more than they were in past decades, many would argue that the intention behind these spaces are getting lost in the increasing commercialization that's happening in our country.  Instead of being true community amenities and public assets, open spaces are more commonly being created as an extension of the private realm – as the entry to entryways, the playgrounds in retail centers, etc.
In the upcoming year, we resolve to help our architectural design clients defend the meaning of open spaces by creating cost-effective solutions for public parks and community gathering places.
Resolution #2 – Design for Efficiency, Functionality, and Beauty
Catching up with our international counterparts, American architectural design has become (justifiably) focused on environmental awareness – and more specifically, on energy efficiency.  However, in the push for efficiency, many projects are failing to deliver on overall functionality and aesthetic appeal.
In the upcoming year, we resolve to continue to leverage the versatility of tensioned fabric structures to help our clients achieve all three goals – with innovative design solutions for all types of commercial projects.
Resolution #3 – Align Exteriors with Interiors
For architects who specialize in renovation projects, one of the greatest challenges is to align the exterior of an outdated building with the newly realized interior.  Whether dealing with historic building code challenges or institutional building facades, being confined to the original envelope of a building can leave renovated properties looking plain (or otherwise unappealing) on the outside and stunning on the inside.
In the upcoming year, we resolve to partner with architects, designers, and contractors to develop exciting ways to reimagine architectural building facades – expanding the possibilities and delivering iconic results.
Resolution #4 – Listen to the Community
In a digital age where all voices can be heard, it's becoming more and more important to listen – to local officials, to community groups, to residents, and to those who will be using the facility most.  Today, architectural design firms have the opportunity to interact with all invested parties long before plans are finalized, so each project starts with a full understanding of the community's real needs.
In the upcoming year, we resolve to partner with our clients and explore creative solutions to the array of challenges posed by the end users.
Resolution #5 – Push the Boundaries
Advances in technology are changing the architectural design industry at the speed of light – creating more cost-effective, efficient, and versatile solutions each and every day.  However, staying on the cutting-edge of emerging trends can feel like an impossible task.
At Eide Industries, we resolve to help our clients understand and implement the latest materials, methodologies, and innovations in the tensioned fabric structure industry – so you can continue to push the limits with your designs while we continue to exceed expectations with our support.
Explore the Partnership of Tensioned Fabric Structures & Architectural Design
In the Tension Structures Division of Eide Industries, we specialize in design, engineering, manufacturing, and installation of structurally complex and creatively challenging commercial, government, and prototype design projects.  We provide expertise and support for architects, landscape designers, general contractors, and property owners to develop their custom tensile membrane project ideas and construct iconic structures.
Explore the options for your next project.  Contact one of our experts today by calling 800-422-6827.